Review: "Porgy and Bess" at Cincinnati Opera
It seems only fitting somehow that the final presentation of the Cincinnati Opera's 2019 summer festival would be Porgy and Bess.  In the arid twilight of a late July Saturday evening in the Queen City, a near capacity audience packed the auditorium of the Music Hall, resplendent after its recent $143 million renovation.  And what unfolded over the next three hours proves exactly why Cincinnati should rank high on your summer arts destination list.
Is there a more iconic and well-known American opera than Porgy and Bess, the 1935 work by George and Ira Gershwin and DuBose Heyward?  As far as the number of songs that have entered the popular repertoire, I can't believe that there is another one better known or loved.  If I began to sing to you "Summertime and the livin' is easy…" I nearly guarantee that you'd know the next line was "fish are jumpin' and the cotton is high" or, at the very least, you'd be able to hum the melody, one of the most beautiful and longing in the entire American songbook.
Yet, as well-known as parts of Porgy and Bess are, the work itself has fallen in and out of favor over the decades since its 1935 premiere.  That is largely due to the troubling questions of race that the score and story bring forward.  But like the Prodigal Son of scripture, Porgy and Bess is experiencing something of a homecoming in 2019, complete with fatted calf and appropriate festivities.  After an absence of 29 years, a new production of the opera will open the 2019-20 season at the Metropolitan Opera eight weeks from now.  That, my friends, is huge news and something very important.  The most prominent opera company in the United States has decided it's time to reassess Porgy and see what it can and should mean in 2019.
However, Porgy and Bess remains in a strange limbo that so often bears examination when American Opera is considered.  What makes an opera an opera?  Is Porgy an opera?  What about Show Boat, Jerome Kern and Oscar Hammerstein II's 1927 work?  What then of Sondheim's Sweeney Todd?  All three are performed by opera companies and all three are also presented on Broadway.  A revised and shortened version of Porgy starred Audra McDonald as Bess a few years back.  But let me tell you, dear readers… if you ever needed proof that Porgy and Bess should be handled by an opera company, let me narrow down the reason to four words: The Cincinnati Symphony Orchestra.
Under the direction of David Charles Abell, the CSO offered a breathtaking ride into and through George Gershwin's score and never allowed you to forget how very good they are.  From the clangorous, percussive overture through gospel and folk-infused numbers all the way to the ringing finale, "Oh Lawd, I'm on my way," they proved their intimate understanding of the form and flaunted the jazz opera idiom created by Gershwin.  This is challenging music that requires a certain amount of swagger to pull off.  And the CSO delivered on all counts.
Yet, if we're going to do this work justice, we must also examine the racial politics that have come to surround the opera.  Here is a piece written by white men in the 1930s about poor black men and women living in Charleston, South Carolina's Catfish Row.  The various musical influences are manifest in George Gershwin's score: gospel, folk, minstrel, and even full-fledged Romantic orchestral structures.  But when you're asking modern African-American actors and singers to perform in a lyrical vernacular that is meant to sound uneducated and poor, the question becomes one of history versus race.  So often, we look back to cinematic artifacts of the period and get the same old "'Sho nuff, boss…" speech patterns, proving that the idea and the idiom were rampant at the time.  And when that question comes up, it's a delicate dance to simultaneously understand and yet somehow separate period from race from prejudice.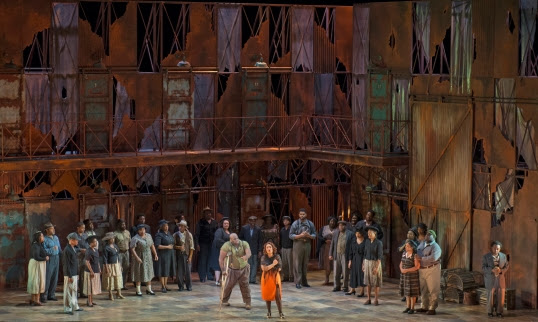 alt="ZZ8_0127 crop 5x7" />
On one hand, you have a stage filled with African-American performers.  When it comes to representation, the line goes that you can't be what you can't see.  Well, the two young men, both African-American, sitting next to me saw a large cast of very powerful and talented performers at the very peaks of their talents.  But, at the same time, they see men and women rendered powerless by their station in life, unable to pay for funerals, violently murdered by their neighbors, threatened by powers beyond their control or knowledge.  The lead actors and the majority of the company are all African-American.  The only roles inhabited by white actors are the coroner, a detective, and other police figures.  If you thought this opera might not have had anything to say in 2019, I'd like to inform you that you're very wrong.
Starring in the title roles, Morris Robinson as Porgy and Talise Trevigne as Bess, played perfectly off one another.  Robinson's profound bass voice carried across the massive CSO with ease and yet allowed Trevigne's sweet soprano voice to soar in their duets, especially "Bess, you is my woman now."  Robinson, a veteran Porgy, fully commits to the role of the physically disabled beggar, using his entire 6'2″ body to show the struggle Porgy endures to move.  Yet it's Trevigne who stands atop two pillars when it comes to her Bess: the drug-addicted slattern, clad in a silky persimmon gown cut down to there and also up to there, and the linen white-wearing community woman she becomes living with Porgy.  It's a delicate balance, but she plays both sides of the coin with equal commitment.
Charged with the job of singing "Summertime" at the top of the show, Janai Brugger's voice is blessed with perfect clarity, soaring ease, and complete naturalism.  This lullaby to end all lullabies is not an easy one to sing, but Brugger made it look like it was something she simply did every night to send her child to sleep.  Reginald Smith, Jr.'s supple baritone voice countered with his own lullaby to their child, "A woman is a sometime thing."  The Cincinnati Opera corps of supernumeraries (non-singing roles) are wonderful at helping to fill in tableaus and creating the life of Catfish Row, especially when it comes to numbers such as Smith's.  It feels organic and natural that these people are spending their leisure time as a community.
alt="ZZ8_0209 crop" />
As Catfish Row's native dope peddler and general sleaze, Frederick Ballentine oozed his way through the production in acid green sharkskin trousers, a standout touch in Paul Tazewell's splendid costuming.  As his foil, La'Shelle Allen's Maria was splendid, especially in her rendition of "I hates yo struttin' style."  Never would a meat cleaver to the body have been better administered and with more aplomb than Ms. Allen could have dealt it.
The last time Cincinnati Opera presented Porgy and Bess in 2012, the production, while very naturalistic, didn't register the same grit and imagination as this one designed by Peter Davison as a co-production of Glimmerglass Opera and Seattle Opera.  For those who missed this engagement, you'll be lucky to see it in the Spring of 2020 at the Washington National Opera at the Kennedy Center.
While Porgy and Bess asks more questions than it can answer about America's relationship with race, class, and authority politics, it's undeniable the power and place the piece has in the canon of American Opera.  In the end, it's no more violent against women than Bizet's Carmen, no less racially problematic than Verdi's Otello, and does force us to look at the period surrounding the work's creation in America in the 1930s.  If we sealed and buried Porgy as unacceptable the way Disney has done with their 1946 Song of the South, we can't learn from it.  Without examination, presentation, and contextualization, Porgy and Bess would be just another artifact we could easily ignore.  But with major companies finally embracing the work and bringing it to their audiences, it's possible to have conversations about what Porgy can and should mean in 2019.
And that, ladies and gentlemen, is what a vital piece of art can do.  It can provoke emotion and even disdain.  But in the end it must invite us to the table to discuss how race politics have and have not changed over eighty years in America.  And my gratitude goes to Cincinnati Opera and the wonderful cast of Porgy and Bess for opening that door and making the conversation possible.
The 2019 Season of the Cincinnati Opera has concluded with Sunday's final performance of Porgy and Bess.  The 2020 season, the company's centenary, will include Rossini's Barber of Seville, Dvořák's Rusalka, Verdi's Aida, and two new works: Castor and Patience as well as Fierce!  Details can be found at the Cincinnati Opera's website.
All photos by Amy Hildebrand and used with permission of Cincinnati Opera.