OUTvoices may earn a commission when you buy through links on our site.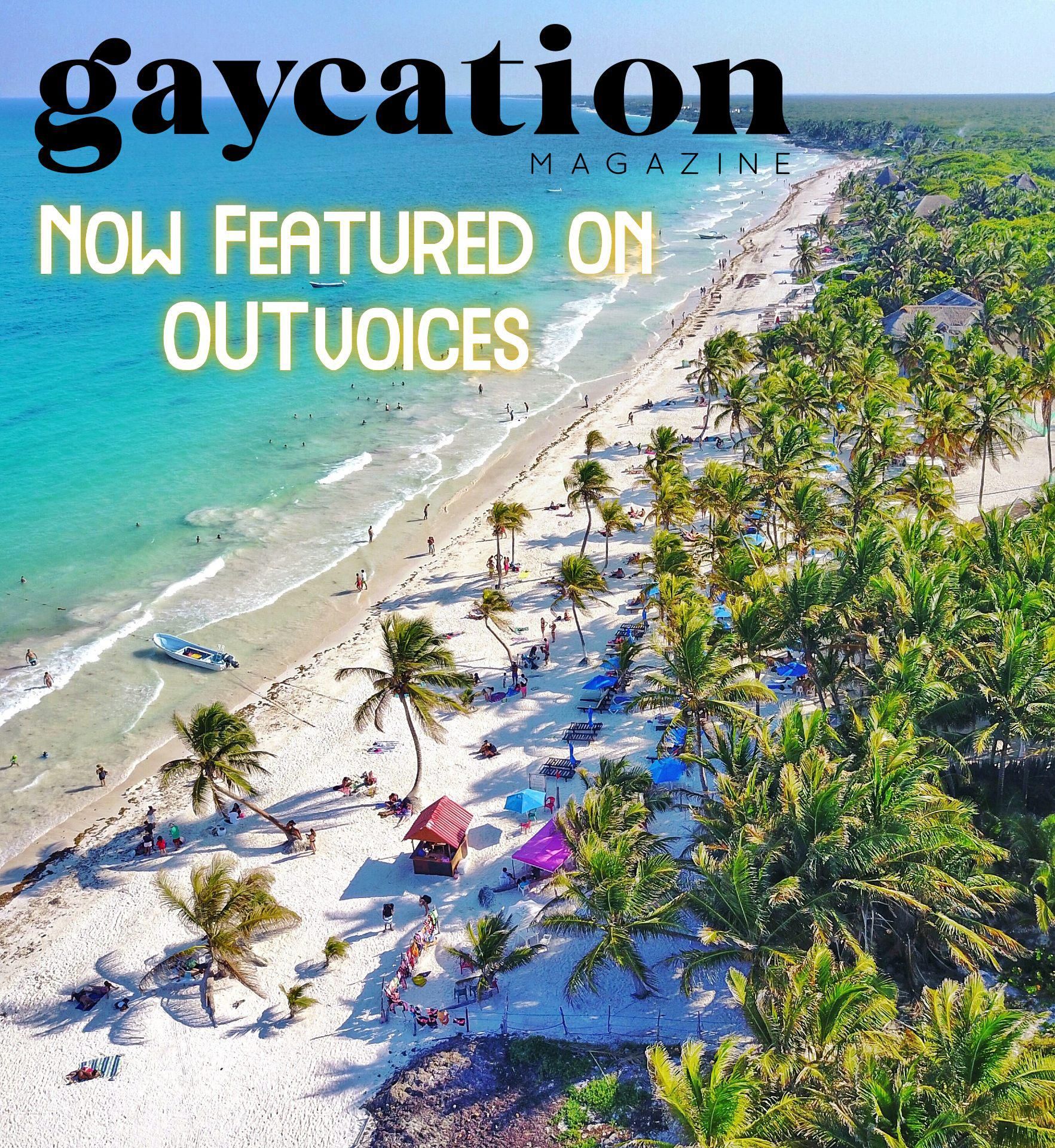 OUTvoices may earn a commission when you buy through links on our site.
It's difficult to encapsulate the feel of Puerto Rico with just one image (or a paragraph for that matter). This is why our Puerto Rico travel guide is extensive – there is so much to express. Once you land on the island you are swept up in the magic of the Caribbean.
Puerto Rico and its people are more than rum, the tropics, and food. They are a group of happy energetic people that are proud of their heritage and culture and for good reason. They love to share everything whether it's hand-crafted cocktails or a meal. They are all to eager to share the history of their island and show you all the things that they love in the hopes that you too will fall in love with it. We know we did when we visited.
When you discover Puerto Rico on your own, you will never stop thinking about it and you will always find a way to return to it. You will need to take a bus or rent a car to visit outside of Old San Juan but it is well worth the effort to get away from the tourist traps and catch a glimpse of the real Puerto Rico.
Where is Puerto Rico Located?
Puerto Rico is located Southeast of Miami between the Caribbean sea and the Atlantic Ocean. It is east of Cuba and the Dominican Republic but west of the Virgin Islands and is in the Atlantic Zone (GMT-4).
When Is the Best Time To Go to Puerto Rico?
You can visit Puerto Rico year round and the best time of year to visit is a personal preference. Puerto Rico is a warm tropical location so be aware it will be the hottest during the summer months. If you are looking for great travel deals, then look for travel from June through August.
If you would like to visit during the colder months of the year, expect to pay a little more for travel and accommodations since this is their peak tourist season.
Things to Know When Visiting Puerto Rico
U.S. citizens don't need a passport to visit
U.S. citizens can use their regular cell service without roaming fees
Puerto Rico just celebrated their 500 year anniversary
You can visit by air or cruise ship
Where to Stay
Four Points by Sheraton Caguas Real Hotel & Casino
Photo courtesy of Four Points by Sheraton Caguas Real Hotel & Casino
Four Points by Sheraton Caguas Real Hotel & Casino
Stay just a short drive outside of downtown San Juan at the skirts of Puerto Rico's central mountain range. Guests of Four Points by Sheraton Caguas Real Hotel & Casino can enjoy beautiful mountain views and easy access to local area attractions. Explore Puerto Rico during the day and the casino at night. If you are looking for a pool day, grab a chair and lounge by the tropical pool.
Purple Queen Room at Coqui del Mar
Photo courtesy of Coqui del Mar
Coqui del Mar
LGBTQ+ owned guesthouse, which has earned recognition for its vibrant and wild times. It is a fully clothing optional, adult-only location that is well-liked amongst the gay community of Puerto Rico, especially for their weekly Saturday evening gay pool parties. The guesthouse different options for their guests, from gay hostel-style shared rooms with twin beds, to more spacious, private apartment-style units with private kitchens. They also offer "gay tours" that traverse the local rainforest or off-the-beaten path beaches.
Casa Flamboyant Bed & Breakfast
Photo courtesy of Casa Flamboyant Bed & Breakfast
Casa Flamboyant Bed and Breakfast
LGBTQ+ owned boutique guesthouse secluded within the El Yunque National Forest. Embraced by the natural surroundings of the beautiful rainforest, the intimate guesthouse offers a special romantic getaway with relaxing yoga and outdoor massage services available on-site. There are 3 room options available to guests: the large rainbow room (325 sq ft), the ginger terrace (143 sq ft), and the Taino room (100 sq ft).
Tryst Beachfront Hotel
Photo courtesy of Discover Puerto Rico
The Tryst Beachfront Hotel
Formerly known as the Atlantic Beach Hotel, The Tryst Hotel continues the LGBTQ tradition of its predecessor. It offers top-notch amenities that can meet the needs of all types of travelers. The main attraction is the property's penthouse suite, which offers a sweeping view of Condado beach – popularly known as the "gay beach of Puerto Rico"-, plus two bedrooms and all basic technology-related amenities such as Wi-Fi and a flatscreen TV to ensure a wholesome stay. The boutique hotel also features the Tryst Petite, a small room for single travelers who are looking for a comfortable and intimate stay right in front of the beach. The Tryst Hotel is the only beachfront hotel in Condado beach.
Hotel Miramar San Juan
Photo courtesy of Hotel Miramar San Juan
Hotel Miramar San Juan
Hotel Miramar is a smaller, 48-room hotel, but boasts the same standard amenities of traditionally larger hotels. Among the standout resources offered at Hotel Miramar, its front desk concierge service goes above and beyond by offering to arrange car rentals, tours and other special services, making it the ideal option for LGBTQ travelers looking for a breezy vacation. The hotel also features an open-air fitness zone and gymnasium for the active travelers, while those looking to relax can visit the roof top pavilion, ocean view terrace and a cozy café all on the hotel's premise. Near the hotel's vicinity is La Placita de Santurce, a must-visit entertainment destination for all food, drinks and dance enthusiasts. Everyone is welcomed at La Placita's street party, making it an easy choice for LGBTQ travelers to visit.
The Wave Hotel Condado
Photo courtesy of The Wave Hotel Condado
The Wave Hotel Condado
The Wave Hotel is another boutique hotel located just steps away from the LGBTQ-friendly Condado beach. Travelers that stay at this hotel can do so with confidence knowing that it offers incredible amenities and three different types of rooms ranging from double twin beds to the "Comfort King" room. The rooftop at the Wave Hotel also offers a stunning view of the beach, mountains and nearby lagoon. After a sunny day at the beach, guests can spend their evening on the opposite end of the property where the LGBTQ scene comes to life. There are multiple bars where guests can try an island staple, the Piña Colada and dance to their heart's content.
Palacio Provincial
Photo courtesy of Palacio Provincial
Palacio Provincial
Located in Old San Juan, the impressive 19th-century hotel is a harmonious blend of traditional and modern. It offers a rooftop pool deck with ocean views, as well as an outdoor restaurant and bar. The location is LGBTQ+ friendly and welcomes all guests regardless of gender identity or orientation.
Dreamcatcher by DW
Photo courtesy of Dreamcatcher by DW
Dreamcatcher by DW
Located in San Juan, Dreamcatcher is a unique stay for the eco-consciousness traveler as it is the Island's only "vegetarian gay owned hotel." Everything on site is organic centered around locally sourced produce and community focus. Guests can pick from a variety of rooms and suites, each with their unique flair to promote wellness and a restful stay.
Where to Eat
La Casita de Rones
Photo Courtesy of La Casita de Rones
La Casita de Rones
It's a tough call but at La Casita de Rones, you can eat AND drink. This rum bar has it all including the Rums of Puerto Rico, which are the 5 primary brands found in Puerto Rico. The full-service restaurant offers up flavorful local cuisine in a lively atmosphere. Ask to sit on the patio so you can enjoy the Caribbean atmosphere and get the full effect of paradise as you sip on your rum flight.
Salted Caramel Cheesecake from El Grifo
Photo courtesy of Joe Eats World
El Grifo
One of the best vegan restaurants you can find. It's worth the trip to Caguas if you're in Puerto Rico. The focus is on local, sustainable plant-based culture. They have a vegan beer, vegan salmon and lox, and even vegan cheesecake all made fresh and in-house. (except the beer). Food is prepared when ordered whether it is dine-in, take-out, or through their online store. El Grifo also offers in-person Vegan Cooking Classes; if you can't make a class while visiting the island, you can always pick up their digital cookbook!
Funche Restaurant
Photo courtesy of Joe Eats World
Funche Restaurant
What do you get when you cross Creole with the Caribbean flavors of Puerto Rico? You get Funche (pronounced Foon-chey) of course. Funche is tucked away into a little corner shop that resembles a strip mall parking lot. This unassuming location packs them in and offers up some of the freshest cuisines around. Available for lunch, dinner, and groups, you can order from the menu or get a tasting course, which we recommend. This is a restaurant that is Michelin quality in food and presentation and it is a must-visit without a doubt.
El Nido Puerto Rico
Photo courtesy of El Nido Puerto Rico
El Nido
El Nido is located at one of the mass transit train station stops and is a combination fashion-art-bar. Imagine, hopping off the train, stopping for a quick bite and a cocktail all the while shopping local brands and artists. El Nico has two locations and offers music from local artists as well. Seriously, it's like an everyday street fest with food, drink, vendors, and sometimes, music.
La Central by Mario Pagán
Photo courtesy of Joe Eats World
La Central by Mario Pagán
Dine at La Central as Chef Mario Pagán takes you on a journey of bold flavors as you get immersed in Puerto Rico's roots and traditions through food. La Central pays homage to Puerto Rico's history of "la caña de azúcar" by using sugar cane and rum in its dishes. After watching the mixologists at the bar create spectacular cocktails, take a trip to the VIP room lounge that is available for cigars and more cocktails.
Where to Drink
Fok Brewing Company, Caguas Puerto Rico
Photo courtesy of Joe Eats World
Fok Brewing
This brewing company started its beer business with just 3 flavors and soon expanded to 21 full-flavored beers. They brew locally and distribute throughout the island. You can watch some of the brewing processes by the large vats they have on-premises. As far as food goes, there are 3 chefs that focus on local and sustainable food from surrounding farmers and local brands. They have a large outdoor space with tables and a stage where they host local musicians. During the pandemic they were even hosting a drive-in theater at no cost to the customers so everyone didn't feel so confined to their homes.
The Sangria Factory
Photo courtesy of Joe Eats World
The Sangria Factory
If you love sangria, then you'll love Los Hermanos Sangria. They use locally produced rums and fruit to make their sangria. They carry flavors such as tamarind, passion fruit, mango, and many more. They have a tasting room if you can't quite make up your mind which flavor you want. Unfortunately, they don't ship products out, they are only available for pick up only.
Arena Medalla
Photo courtesy of Arena Medalla
Arena Medalla
This is the bar to go to when you want to have a beer, watch sports or listen to music. It all happens on the 30-foot panoramic LED screen. After the game, stick around and listen to the band or see what the live DJ is playing. You can head upstairs and play some pool, sit at one of the several large-group-sized lounge areas, and just enjoy the people and the sound. It's the ultimate sports viewing experience for a reason.
Things to Do
The Spoon Experience
Photo courtesy of The Spoon Experience Instagram
The Spoon Experience
Take in a Sip & Savor Cocktail Tour with The Spoon Experience. This is a fun walking tour of Old San Juan where you visit local drinking establishments and enjoy cocktails that represent the spirit (no pun intended) and traditions of the island of Puerto Rico.
The William Miranda Marín Botanical and Cultural Garden
Photo courtesy of Joe Eats World
The William Miranda Marín Botanical and Cultural Garden
Visit this living museum and explore the flora that is native to Puerto Rico. You can explore the botanical gardens and see how they cultivate tropical trees and plants. Learn about the history of the Old San Juan Sugar Mill and about the local sugar industry. You can take a tour through the gardens to see the different flowers and plants found on the island; you may even find some local wildlife such as iguanas.
Museo del Tabaco Herminio Torres Grillo
Photo courtesy of Joe Eats World
Museo del Tabaco Herminio Torres Grillo
Take a tour of this Tobacco Museum located in the town of Caguas which is the ONLY tobacco museum on the entire island. Housed in an old colonial building that used to be a blacksmith shop, you can learn about the variety of tobacco leaves used, how they dry them, and how they are still handmade by expert cigar makers who roll and cut each cigar in a separate air-conditioned room.
Visit a Rum Distillery
Photo courtesy of Joe Eats World
Visit a Rum Distillery
There is definitely no shortage of rum distilleries to visit in Puerto Rico. These are some of the best of the best rum distilleries you can visit and we definitely recommend doing at least one...ok, all of them.
San Juan Artisan Distillers
Makers of Ron Pepón and Tresclavos, you can tour this distillery that has its own sugar cane crops behind the building. See how they process the rum from harvest to bottle then head to the tasting area and have a sip. San Juan Artisan Distillers was the first distillery in Puerto Rico to produce artisan rum and their Ron Pepón is made from sugar cane juice instead of molasses.
La Destileria Craft Spirits
This craft micro-distillery is located in the mountains of the Jayuya rainforest. Drawing from the purity and craftsmanship of this old town that has ancestral roots to the Taíno Indians. La Destileria uses non-traditional distilling and aging methods to produce its spirits and is the only certified craft distillery in Puerto Rico. They even produce Pitorico which is their version of traditional Puerto Rican pitorro, also known as Caneshine.
Ron del Barrilito
You won't find any older rum than Ron del Barrilito in Puerto Rico. They are the oldest Puerto Rican rum distillery on the island and the rum has been produced the same way in the same place since 1880. Take a tour of the facilities, see how they store the barrels, then move on to the bottling and distribution area. Once you're finished with the tour, you can take a tasting course and learn all about the famous rum. Then head over to the cocktail bar and pick out your favorite rum cocktail but it's not complete until you visit the gift shop and take home a treasured souvenir.


Distrito T-Mobile
Photo courtesy of Distrito T-Mobile
Distrito T-Mobile
Distrito T-Mobile is a five-acre experiential complex and arena that combines technology with shopping, dining, art, and entertainment. It is the embodiment of the Puerto Rico people and culture by way of its happy, vibrant, and energetic atmosphere. Truly a place to enjoy yourself and eat, drink, play; and quite possibly, dance.
Related Articles Around the Web
Photo courtesy of KimChi Chic Beauty
If you haven't heard of Kim Chi, she is the first Korean-American on RuPaul's Drag Race and was named one of the most powerful drag queens in America. Kim Chi was runner-up on Season 8 of RuPaul's Drag RaceRuPaul's Drag Race and was sent home by Bob The Drag Queen later in the season. Well, since then, she's been quite busy. She started her own makeup line and has been making appearances all over the place. Now, she's teamed up with none other than Trixie Mattel to do a limited edition makeup collaboration.

We got in a little chat with Kim Chi where she talks about life, love, the runway...nah, just kidding. She did take some time out to answer a few questions for us on what it was like being on RPDR, what one product she can't live without, and so much more.
All of the products are cruelty-free and 2% of all sales to The Trevor Project. If you haven't checked out Kim Chi's beauty line, you should, the KimChi Chic Beauty line is stocked with a ton of makeup products and that bowtie is pretty cute too.
Q: What brought you to the decision to start a makeup line?
WTHighlight Double Diamonds makeup
Photo courtesy of KimChi Chic Beauty
A: The options were very limited for good affordalbe makeup, so it was important to me to create quality makeup that every makeup lover could enjoy.

Q: What does the collaboration between you and Trixie Mattel look like?
A: Putrid. Pungent. Audacious. It is a perfect representation of both Trixie and my style!
Q: Where and how did the two of you meet and subsequently become BFFs?
A: She stalked me on Facebook and forced me to book her in Chicago. Haven't been able to get away from her since!
Q: What makeup product can you NOT live without?
A: Definitely eyeliner. The KimChi Chic Beauty Stage Proof Liquid Liner and The Effin Liner never leaves my makeup kit.
Q: Can you give us some makeup tips? 
A: Don't be afraid to experiment. It's okay to wipe away mistakes and start over if needed.
Q: How has appearing on RuPaul shaped your lives, career, and outlook?
A: It has made me the 17th most powerful drag queen in the world according to some list by a famous publication. Kidding again! It gave me this really amazing platform to live out my wildest dreams, connect with people all around the world, and hopefully inspire others like myself. It showed me the importance of holding on to your passions and living life authentically.
Q: What are your top 3 charities to support?
A: Seniors Fight Back, The Trevor Project, Elton John Aids Foundation
Q: What 2 things would you say to an aspiring drag queen?
A: Success doesn't happen overnight, be patient and prepare to spend a lot of money!
Q: How big of a difference is it between your drag queen persona and non-drag queen persona? Or is there? Do you sometimes forget when you're "on" or "off"?
A: It depends on whether I'm wearing a wig or not. Kim is a little louder, snarkier, and outgoing than Sang.
Q: What's next? You have the appearances, the collaboration, the friendship…What is on the horizon?
A: Lots of touring, more KimChi Chic Beauty launches, and one day...hopefully, retirement!
Q: What would you be doing if you weren't a drag queen performer and makeup entrepreneur?
A: Before doing drag I was an art director, so probably something similar relating to fashion design, art, or something similar.
KimChi Chic Beauty
KimChi Chic Beauty and Trixie Mattel Makeup Line
Photo courtesy of KimChi Chic Beauty
You can see the limited edition Trixie x Kim Chi Collab BFF4EVR on KimChi's Chic Beauty site. It's a fun and whimsical product line. The limited edition includes 5 different products with various shades and colors to choose from as well as a KimChi and Trixie Girl Fan or purchase the entire line in one bundle.
Photo courtesy of Rumble Boxing Gulch Nashville
Rumble Boxing, the boxing-inspired group fitness studio, opened its doors for the first time in Nashville on June 20 at 609 Overton St, Nashville, TN. The hottest workout on the block is hosting its official grand opening from August 4th-7th with daily classes, membership specials, and prizes from local vendors. The new Rumble Boxing studio is currently offering a buy one class, get one free promotion for the Nashville community.
Rumble Boxing delivers 45-minute, 10-round, strength and conditioning group workouts, crafted around teardrop-style aqua boxing bags and high-intensity strength training circuits. This brings all fitness levels together to experience what Rumble is known for: combining the sweet science of boxing with high energy and positive vibes.
Boutique Fitness
Rumble Boxing Fitness Studio
Photo courtesy of Rumble Boxing Gulch Nashville
This boutique fitness brand offers serious benefits like increased stamina and strength, with cardio that's actually fun. The seasoned trainers at the new studio are thrilled to serve their local community while offering this fun, new modern approach to boxing and welcome members of all fitness levels to the Rumble family.
The new Rumble Boxing studio is owned and operated by Blake Baskin and Antonio Compton. With their background in the fitness industry, this dynamic duo is excited to bring their passion for boxing and group fitness to Nashville. As business and life partners, Blake and Antonio aim to create a strong community within their new Rumble Boxing studio and share their message of non-apologetic inclusivity.
Black and Gay-Owned Business
Rumble Boxing Store with Dolly Parton Mural
Photo courtesy of Rumble Boxing Gulch Nashville
​"We own who we are, and this brand aligns with that perfectly," said Antonio. "This is what we want to create and bring to this community: a fitness class that is designed for anyone and a place for people to be who they are. As a Black and gay-owned business, we want to help lower the division we see in the world right now. Our goal is to bring people together through Rumble, set everything aside, and have fun."
To echo their message of acceptance and inclusion, Blake and Antonio commissioned a local Nashville artist to paint an 11 X 6-ft. mural of Nashville icon and philanthropist, Dolly Parton. The massive portrait features the country star in Rumble Boxing gear in the lobby of the studio.
The excitement and buzz around Rumble allowed Blake and Antonio to recruit top-tier trainers to head up the new studio, including Head Trainer Oronde Jones, a well-known celebrity trainer in the Nashville market.
Rumble Boxing Fitness Studio
Photo courtesy of Rumble Boxing Gulch Nashville
"Compared to other fitness classes, Rumble is a class you can truly get lost in for 45 minutes. With the dark room, you don't have to worry if anyone is paying attention to you. The music is awesome and inspiring, and the beat drops right when you need it the most. Also, with boxing being a sport you can never truly master, you're always improving and crafting your skill. On the floor, you're consistently doing something new, which prevents you from ever hitting a plateau." Said Oronde Jones about his favorite part of Rumble.
Rumble has massive brand loyalty and widespread appeal, partly thanks to attracting top names like Justin Bieber, Selena Gomez, Kendall Jenner, Hailey Baldwin, Jason Derulo, David Beckham, and Kevin Hart to its studios.
About Rumble Boxing
Founded in New York City in 2017, Rumble is a group fitness concept delivering a mix (or combination) of boxing-inspired circuits and the transformative power of resistance training. Pro and amateur fighters glove up together, no matter their fitness level or skill, to reveal their inner fighter. The experience is a 45-minute, 10-round, full-body cardio and strength workout crafted around specially designed water-filled, teardrop-style boxing bags. Rumble was founded by Noah Neiman (former Barry's Bootcamp Master Trainer, and cast member of Bravo's Work Out New York), Eugene Remm (Co-Founder of Catch Hospitality Group (Catch Restaurants, CATCH STEAK, Lexington Brass), Andy Stenzler (Co-Founder Cosí, Kidville), and Anthony DiMarco (13-time IRONMAN, former Managing Director, Google).
Like many of the recent Marvel Cinematic Universe films, LGBTQ+ fans awaited the release of Thor: Love and Thunder in open anticipation of the inclusivity that both Marvel and Disney had promised. However, the fans were only setting themselves up for disappointment when the film was finally released.
Despite passionate assurances from studio heads to key actors,
Thor: Love and Thunder
was NOT spectacularly gay. It wasn't even that good…
Premiere Night Promises
Lightning bold across the sky
Photo by Bill D.
Standing on the red carpet at the London Premiere of the film, director and actor Taika Waititi and fellow cast members Natalie Portman and Tessa Thompson were offered up the inevitable question: "How gay is the film?"
Amidst some laughter from the crowds, Waititi gestured towards Portman to respond. The actress (who plays Thor's love interest, Jane Foster, throughout the franchise) raised the microphone to her lips and thought for a moment, before delivering a quiet yet fateful: "So gay!"
Barely a moment had passed before the gathered fans went wild and Taika Waititi gave his own verdict: "
Super gay!
". Tessa Thompson made no statement on the 'gayness' of the film, instead opting to swing her microphone around suggestively. As more cheers erupted, a second round of "super gay" slipped out of Waititi's mouth, before he urged the fans to enjoy the film.
Thor: Love and Thunder's LGBTQ+ Potential
Thor's movie-goers were definitely hyped up for a gay extravaganza and they had a specific character in mind. The fan-favorite Valkyrie, played by Tessa Thompson, stumbled her way into the MCU during Thor's third film, Ragnarok. The Asgardian warrior won many people over with her wit, sarcasm, and pure badassery.
After the events of Avengers: Endgame *spoilers*, Thor Odinson gives up his claim to the throne of Asgard and names Valkyrie as king in his stead. This left many fans excited to see what would become of the character, especially after certain revelations were made at the 2019 San Diego Comic-Con:
"As a new king, she has to find her queen. So that'll be her first order of business."
With these words, Tessa Thompson threw her LGBTQ+ fans into a frenzy, with heavy expectations for the then-upcoming fourth installment of the Thor films. Indeed, in an interview with the LA Times, shortly before the film's release, Tessa Thompson was asked to comment on the sexuality of her character. She responded with several promising remarks, including "there's a lot of folks that are righteously very hungry for that representation to exist in these movies, as am I".
*Warning: spoilers ahead!*
So, How Gay Was Thor 4?
To put it simply: not gay at all. Not only did Valkyrie end up without a fabulous new queen, her non-heteronormative sexuality only got the barest mention (a brief line about a previous, now dead, girlfriend). Valkyrie may have made bedroom eyes at some pretty ladies before an action scene spoils the moment, but that's about as much as we get.

The film does get some credit for introducing a trans character in a minor yet significant role. Thor returns to his people (after a brief stint as a Guardian of the Galaxy) only to find out that the daughter of one of his closest (and deceased) friends is now a boy. The issue is, whether due to personal prejudice or some alien inability to grasp the concept of being transgender, it does take Thor a frustrating few moments to come to terms with the change. And to stop deadnaming.
In fact, the only concession to the queer community was Taika Waititi's extraterrestrial character
Korg
finding a husband in one of the closing scenes. This heartfelt moment was somewhat underscored by the revelation that Korg's entire species is male, meaning he had no other choice but to be 'gay'.
This Is Not Marvel's First Queerbaiting Attempt
Photo by Harry Q.
This is, by far, not the first time that LGBTQ+ fans have been sorely disappointed by the workings of Marvel and Disney. In fact, people across many social media platforms have been chiding expectant viewers for once again falling for classic queerbaiting tactics. "Being queerbaited by the MCU is like being a golden retriever with a human who always pretends to throw the ball", one Tumblr user declared.
Captain Marvel, starring Brie Larson, was the perfect moment for the MCU to introduce its first lesbian lead. Larson's character seemed to have an intense relationship with another woman, going so far as to help raise her child (before Larson's Carol Danvers disappeared from Earth for 6 years). Despite leaning into several romantic tropes, the status of their relationship was never fully fleshed out. However, it was also the franchise's first female-led superhero movie, so maybe they thought that introducing her as a lesbian would make the film too awesome.
The heavily anticipated Avengers: Endgame was also slated to introduce the MCU's 'first gay character'. While many fans were excited, particularly as this would be the second of Larson's appearances on screen, the big gay build-up was a massive letdown. The film's director Joe Russo made a cameo as a blip survivor mourning the loss of his husband. A five-second throw-away scene that had no impact on the outcome of the film. Big whoop...
Even when we did see a film with a gay lead, The Eternals, there were also ten other straight leads. At that point, it just seemed more like basic probability than an attempt at pushing LGBT+ superheroes into the spotlight.
Why Can't Disney Let Marvel Be Gay?
The big problem with allowing a few characters to be anything other than cishet is that there are still many countries in the world that outlaw homosexuality. As much as we like to think that the MCU is being made for comic book fans, we all know the purpose of the films is to make money for Disney. And without certain markets in Asia and the Middle East, Disney wouldn't be raking in up to (and over) one billion dollars per theatrical release.
Is There Any Hope For LGBTQ+ Fans In The MCU's Future?
Black Panther: Wakanda Forever, the second in the much-loved Black Panther arc, will be released in cinemas this November. The studio has confirmed that the film will contain a queer character. Actress Michaela Coel will play Aneka, a warrior, and trainer of the king's guard. Whether or not her diversity will stand out in the film (let alone endure for more than a 10-second scene that can be easily cut) remains to be seen.
Next year's The Marvels film, starring Brie Larson, Iman Vellani, and Lashana Lynch may offer the MCU a chance to redeem itself in the eyes of its LGBT+ fans. The studios may feel it's finally time to offer us the heartwarming lesbian relationship between Larson's
Carol Danvers
and Lynch's
Maria Rambeau
that seemed to be teased in the first Captain Marvel. Don't raise your hopes too high, though, as you may yet end up as a stubborn golden retriever waiting for a cinematic universe to finally throw that rainbow ball.
OUTvoices Cities
Copyright © 2022 OUTvoices