OUTvoices may earn a commission when you buy through links on our site.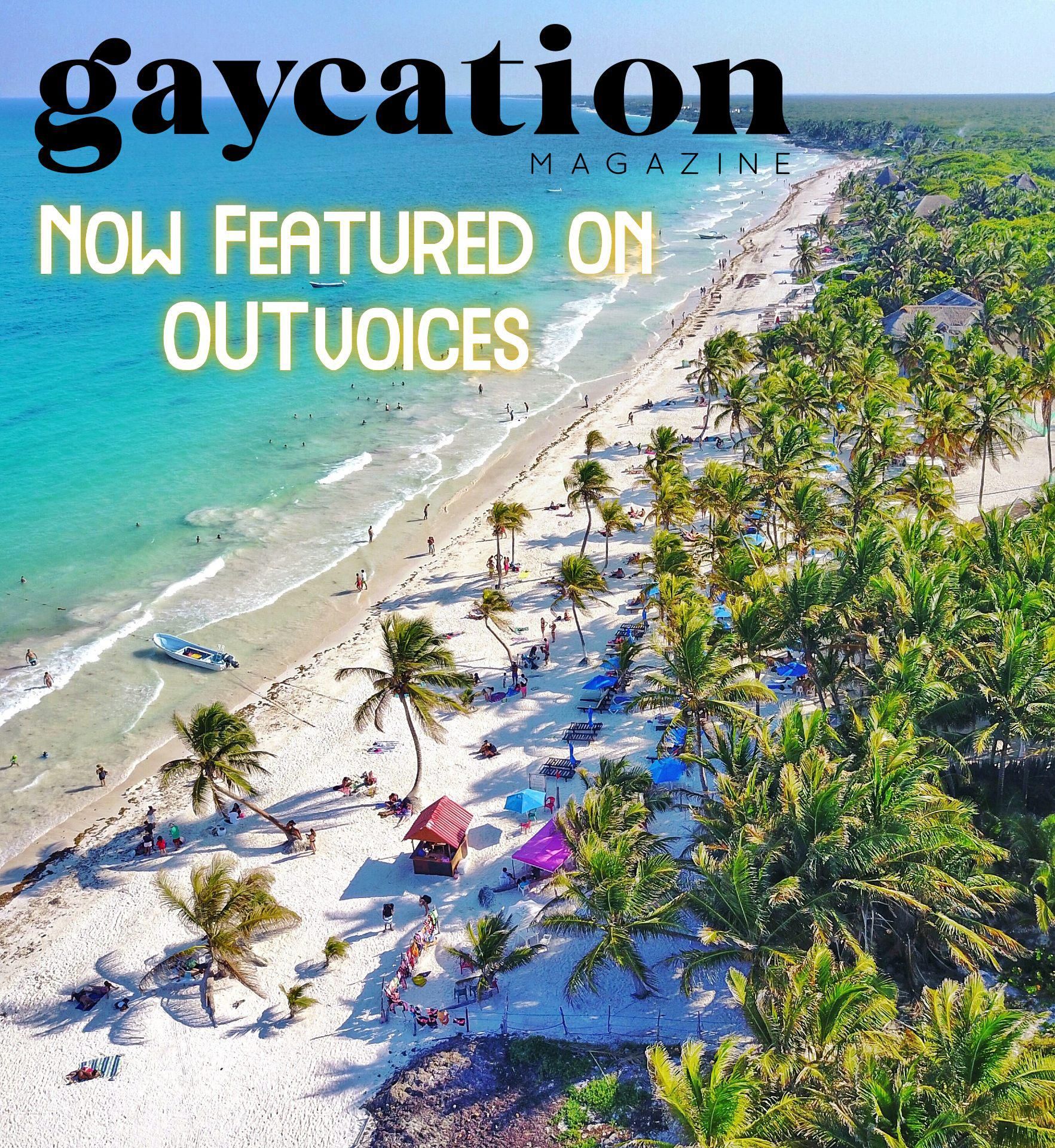 by NomadicBoys
Get out of the cold and head to Miami!
We luuuurve Miami! To be honest, we love the whole of Florida as a gay destination but there's just something about Miami. Perhaps it's all the sun and gorgeous beaches, or the delicious restaurants where we can gorge on sushi and other seafood. Or the buff gay bodies on display wherever you look… yeah that definitely plays a part.
But what we really love about Miami are all the fabulous gay bars, clubs and beaches where we can feel completely free while surrounded by our rainbow family. Miami is home to one of the largest LGBTQ communities in the world and attracts more than a million gay visitors each year - now that's a lot of queer eyes, baby!
Out of our many trips back to the gay scene of Miami there are a few places that we return to again and again. Whether it's for a chilled drink with some friends or a night of dancing and debauchery until the wee hours, there is something for everyone in Miami's gay scene. These are our personal favourite gay bars and clubs in Miami where we always have a good time:
Twist
Twist is without a doubt one of the best gay places in Miami and you definitely don't need to twist our arms to visit it again, get it?! Twist is the longest-running gay bar/club in Miami, founded in 1993 and with the slogan "Never a cover - always a groove". That means you never need to pay a cover charge to get in and enjoy your night - now that is a marketing campaign we can get behind!
Twist is also huge, with three different dance floors and seven bars spread out over a two-storey building. There are both indoor and outdoor areas to relax as well, so visiting Twist is almost like spending time at a miniature gay town! Best of all, it's open 7 days a week with exciting events pretty much every night of the week as well. On Sundays there's an underwear contest at midnight, there's comedy drag on Wednesdays plus top DJs and the HOT gaiety dancers every night for your viewing pleasure…need we go on?
The overall vibe and crowd at Twist is young, fun and fiiiiine! It's located at 1057 Washington Avenue on Miami Beach, next door to the 11th Street Diner featured in Will Smith's "Miami" music video. Twist is open every day from 1pm until 5am.
WaterLOO
"Waterloo, I was defeated, you won the war…" oh sorry, we got distracted! And while WaterLOO in Miami might not be blasting out ABBA hits (they missed a trick there when naming it), it's still one of our favourite gay bars in the whole city. It's a different vibe than some places, with a rather classy feel, especially since they call themselves a "discotheque" rather than a bar or club. Make sure you hold your pinkie finger out while drinking that cocktail daaarling!
This doesn't mean you can't have fun though, as WaterLOO is kind of like a lounge where you can also dance and have fun. Let's not forget all the hot topless Go-Go dancers, bartenders and DJs that you can ogle. Just keep it classy (and in your pants) ladies! On Tuesdays there's karaoke with drag queen Tiffany Fantasia and they also host regular Ru Paul's Drag Race viewing parties so do NOT sashay away…
WaterLOO is located at 1216 Washington Avenue in Miami Beach, just two blocks away from Twist. They're open from 9pm until 2am every night except Saturday, when they stay open until 5am the next morning.
R House
For something a little bit different, head to Miami's hipster Wynwood Arts District which is filled with cool street art and home to the funky gay-owned R House. It was created by chef Rocco Carulli and his husband Owen Bale as a place for enjoying food, art and music all in one spot - we love it!
R House is a fab spot for a delicious meal of American, Mediterranean, Asian and Latin dishes but the fun certainly doesn't stop there. The art gallery gives you something beautiful to look at while you're there, although the staff are pretty easy on the eyes as well! Friday nights are when the Fri-yay events take place, with special discounted drink prices and live DJs to keep the crown entertained.
The weekends are pumping at R House as well, with hilarious drag brunches on Saturday and Sunday which include bottomless mimosas! The Queens and music are also amazing, then later on Saturday night is the biggest party night with guest DJs keeping you up dancing till all hours.
R House is located at 2727 NW 2nd Ave, Miami and is open Wednesday to Thursday from 3pm - 10pm, on Friday from 3pm - 3am, Saturday from midday - 3am and Sunday from 11.30am - 9pm.
Palace
Palace Bar's slogan is "Every Queen needs a palace" and honey, you should us wearing crowns! Every gay visitor to Miami needs to come to Palace to bow down and worship at the number one gay restaurant/bar in the city. It's been going strong since the 80s and is THE place to see the most glamorous drag queens in Florida.
As well as the Palace bar where you can enjoy craft cocktails, tasty dishes, music and drag shows, there's also the Palace cafe where the legendary weekend drag brunches are held. On Fridays, Saturdays and Sundays there are two different showings (at 11am and 2pm) where you will be entertained and absolutely roasted by the fierce queens! The food ain't half bad either, with fluffy pancakes, French toast that even my fussy Frenchman enjoyed, potato hash and, of course, bottomless mimosas.
Palace is located at 1052 Ocean Drive (right by the beach!) and is open every day from 10am until 3am (Sunday - Wednesday) or 4am (Thursday - Saturday). Don't miss out on their Happy Hours from Monday to Friday between 5pm - 7pm.
Azucar
Look, if you haven't had your fill of fierce drag queens or you just like to stay up LATE partying, then Azucar nightclub fits the bill perfectly. This is a gay Latin nightclub in the heart of Miami's Little Havana district where you might need to brush up on your Spanish skills to properly understand the filth those ladies are slinging your way!
Azucar hosts regular fun events, from drag wars to cabaret, karaoke to 'normal' party nights like "extreme Thursdays" and "crazy Fridays". Pretty much every night that they're open features some form of drag show and the drag contests are just the thing if you've always wanted to get in touch with your feminine persona.
Since Azucar means sugar in Spanish, people often say a night at Azucar Miami is sweet as sugar, and we certainly can't disagree. The vibe here is unabashedly wild and carefree. Azucar is located at 2301 SW 32nd Avenue and is open from Thursday- Sunday between 10.30pm and 5am.
You may also like these other Nomadic Boys places!
Photo courtesy of KimChi Chic Beauty
If you haven't heard of Kim Chi, she is the first Korean-American on RuPaul's Drag Race and was named one of the most powerful drag queens in America. Kim Chi was runner-up on Season 8 of RuPaul's Drag RaceRuPaul's Drag Race and was sent home by Bob The Drag Queen later in the season. Well, since then, she's been quite busy. She started her own makeup line and has been making appearances all over the place. Now, she's teamed up with none other than Trixie Mattel to do a limited edition makeup collaboration.

We got in a little chat with Kim Chi where she talks about life, love, the runway...nah, just kidding. She did take some time out to answer a few questions for us on what it was like being on RPDR, what one product she can't live without, and so much more.
All of the products are cruelty-free and 2% of all sales to The Trevor Project. If you haven't checked out Kim Chi's beauty line, you should, the KimChi Chic Beauty line is stocked with a ton of makeup products and that bowtie is pretty cute too.
Q: What brought you to the decision to start a makeup line?
WTHighlight Double Diamonds makeup
Photo courtesy of KimChi Chic Beauty
A: The options were very limited for good affordalbe makeup, so it was important to me to create quality makeup that every makeup lover could enjoy.

Q: What does the collaboration between you and Trixie Mattel look like?
A: Putrid. Pungent. Audacious. It is a perfect representation of both Trixie and my style!
Q: Where and how did the two of you meet and subsequently become BFFs?
A: She stalked me on Facebook and forced me to book her in Chicago. Haven't been able to get away from her since!
Q: What makeup product can you NOT live without?
A: Definitely eyeliner. The KimChi Chic Beauty Stage Proof Liquid Liner and The Effin Liner never leaves my makeup kit.
Q: Can you give us some makeup tips? 
A: Don't be afraid to experiment. It's okay to wipe away mistakes and start over if needed.
Q: How has appearing on RuPaul shaped your lives, career, and outlook?
A: It has made me the 17th most powerful drag queen in the world according to some list by a famous publication. Kidding again! It gave me this really amazing platform to live out my wildest dreams, connect with people all around the world, and hopefully inspire others like myself. It showed me the importance of holding on to your passions and living life authentically.
Q: What are your top 3 charities to support?
A: Seniors Fight Back, The Trevor Project, Elton John Aids Foundation
Q: What 2 things would you say to an aspiring drag queen?
A: Success doesn't happen overnight, be patient and prepare to spend a lot of money!
Q: How big of a difference is it between your drag queen persona and non-drag queen persona? Or is there? Do you sometimes forget when you're "on" or "off"?
A: It depends on whether I'm wearing a wig or not. Kim is a little louder, snarkier, and outgoing than Sang.
Q: What's next? You have the appearances, the collaboration, the friendship…What is on the horizon?
A: Lots of touring, more KimChi Chic Beauty launches, and one day...hopefully, retirement!
Q: What would you be doing if you weren't a drag queen performer and makeup entrepreneur?
A: Before doing drag I was an art director, so probably something similar relating to fashion design, art, or something similar.
KimChi Chic Beauty
KimChi Chic Beauty and Trixie Mattel Makeup Line
Photo courtesy of KimChi Chic Beauty
You can see the limited edition Trixie x Kim Chi Collab BFF4EVR on KimChi's Chic Beauty site. It's a fun and whimsical product line. The limited edition includes 5 different products with various shades and colors to choose from as well as a KimChi and Trixie Girl Fan or purchase the entire line in one bundle.
Photo courtesy of Rumble Boxing Gulch Nashville
Rumble Boxing, the boxing-inspired group fitness studio, opened its doors for the first time in Nashville on June 20 at 609 Overton St, Nashville, TN. The hottest workout on the block is hosting its official grand opening from August 4th-7th with daily classes, membership specials, and prizes from local vendors. The new Rumble Boxing studio is currently offering a buy one class, get one free promotion for the Nashville community.
Rumble Boxing delivers 45-minute, 10-round, strength and conditioning group workouts, crafted around teardrop-style aqua boxing bags and high-intensity strength training circuits. This brings all fitness levels together to experience what Rumble is known for: combining the sweet science of boxing with high energy and positive vibes.
Boutique Fitness
Rumble Boxing Fitness Studio
Photo courtesy of Rumble Boxing Gulch Nashville
This boutique fitness brand offers serious benefits like increased stamina and strength, with cardio that's actually fun. The seasoned trainers at the new studio are thrilled to serve their local community while offering this fun, new modern approach to boxing and welcome members of all fitness levels to the Rumble family.
The new Rumble Boxing studio is owned and operated by Blake Baskin and Antonio Compton. With their background in the fitness industry, this dynamic duo is excited to bring their passion for boxing and group fitness to Nashville. As business and life partners, Blake and Antonio aim to create a strong community within their new Rumble Boxing studio and share their message of non-apologetic inclusivity.
Black and Gay-Owned Business
Rumble Boxing Store with Dolly Parton Mural
Photo courtesy of Rumble Boxing Gulch Nashville
​"We own who we are, and this brand aligns with that perfectly," said Antonio. "This is what we want to create and bring to this community: a fitness class that is designed for anyone and a place for people to be who they are. As a Black and gay-owned business, we want to help lower the division we see in the world right now. Our goal is to bring people together through Rumble, set everything aside, and have fun."
To echo their message of acceptance and inclusion, Blake and Antonio commissioned a local Nashville artist to paint an 11 X 6-ft. mural of Nashville icon and philanthropist, Dolly Parton. The massive portrait features the country star in Rumble Boxing gear in the lobby of the studio.
The excitement and buzz around Rumble allowed Blake and Antonio to recruit top-tier trainers to head up the new studio, including Head Trainer Oronde Jones, a well-known celebrity trainer in the Nashville market.
Rumble Boxing Fitness Studio
Photo courtesy of Rumble Boxing Gulch Nashville
"Compared to other fitness classes, Rumble is a class you can truly get lost in for 45 minutes. With the dark room, you don't have to worry if anyone is paying attention to you. The music is awesome and inspiring, and the beat drops right when you need it the most. Also, with boxing being a sport you can never truly master, you're always improving and crafting your skill. On the floor, you're consistently doing something new, which prevents you from ever hitting a plateau." Said Oronde Jones about his favorite part of Rumble.
Rumble has massive brand loyalty and widespread appeal, partly thanks to attracting top names like Justin Bieber, Selena Gomez, Kendall Jenner, Hailey Baldwin, Jason Derulo, David Beckham, and Kevin Hart to its studios.
About Rumble Boxing
Founded in New York City in 2017, Rumble is a group fitness concept delivering a mix (or combination) of boxing-inspired circuits and the transformative power of resistance training. Pro and amateur fighters glove up together, no matter their fitness level or skill, to reveal their inner fighter. The experience is a 45-minute, 10-round, full-body cardio and strength workout crafted around specially designed water-filled, teardrop-style boxing bags. Rumble was founded by Noah Neiman (former Barry's Bootcamp Master Trainer, and cast member of Bravo's Work Out New York), Eugene Remm (Co-Founder of Catch Hospitality Group (Catch Restaurants, CATCH STEAK, Lexington Brass), Andy Stenzler (Co-Founder Cosí, Kidville), and Anthony DiMarco (13-time IRONMAN, former Managing Director, Google).
Like many of the recent Marvel Cinematic Universe films, LGBTQ+ fans awaited the release of Thor: Love and Thunder in open anticipation of the inclusivity that both Marvel and Disney had promised. However, the fans were only setting themselves up for disappointment when the film was finally released.
Despite passionate assurances from studio heads to key actors,
Thor: Love and Thunder
was NOT spectacularly gay. It wasn't even that good…
Premiere Night Promises
Lightning bold across the sky
Photo by Bill D.
Standing on the red carpet at the London Premiere of the film, director and actor Taika Waititi and fellow cast members Natalie Portman and Tessa Thompson were offered up the inevitable question: "How gay is the film?"
Amidst some laughter from the crowds, Waititi gestured towards Portman to respond. The actress (who plays Thor's love interest, Jane Foster, throughout the franchise) raised the microphone to her lips and thought for a moment, before delivering a quiet yet fateful: "So gay!"
Barely a moment had passed before the gathered fans went wild and Taika Waititi gave his own verdict: "
Super gay!
". Tessa Thompson made no statement on the 'gayness' of the film, instead opting to swing her microphone around suggestively. As more cheers erupted, a second round of "super gay" slipped out of Waititi's mouth, before he urged the fans to enjoy the film.
Thor: Love and Thunder's LGBTQ+ Potential
Thor's movie-goers were definitely hyped up for a gay extravaganza and they had a specific character in mind. The fan-favorite Valkyrie, played by Tessa Thompson, stumbled her way into the MCU during Thor's third film, Ragnarok. The Asgardian warrior won many people over with her wit, sarcasm, and pure badassery.
After the events of Avengers: Endgame *spoilers*, Thor Odinson gives up his claim to the throne of Asgard and names Valkyrie as king in his stead. This left many fans excited to see what would become of the character, especially after certain revelations were made at the 2019 San Diego Comic-Con:
"As a new king, she has to find her queen. So that'll be her first order of business."
With these words, Tessa Thompson threw her LGBTQ+ fans into a frenzy, with heavy expectations for the then-upcoming fourth installment of the Thor films. Indeed, in an interview with the LA Times, shortly before the film's release, Tessa Thompson was asked to comment on the sexuality of her character. She responded with several promising remarks, including "there's a lot of folks that are righteously very hungry for that representation to exist in these movies, as am I".
*Warning: spoilers ahead!*
So, How Gay Was Thor 4?
To put it simply: not gay at all. Not only did Valkyrie end up without a fabulous new queen, her non-heteronormative sexuality only got the barest mention (a brief line about a previous, now dead, girlfriend). Valkyrie may have made bedroom eyes at some pretty ladies before an action scene spoils the moment, but that's about as much as we get.

The film does get some credit for introducing a trans character in a minor yet significant role. Thor returns to his people (after a brief stint as a Guardian of the Galaxy) only to find out that the daughter of one of his closest (and deceased) friends is now a boy. The issue is, whether due to personal prejudice or some alien inability to grasp the concept of being transgender, it does take Thor a frustrating few moments to come to terms with the change. And to stop deadnaming.
In fact, the only concession to the queer community was Taika Waititi's extraterrestrial character
Korg
finding a husband in one of the closing scenes. This heartfelt moment was somewhat underscored by the revelation that Korg's entire species is male, meaning he had no other choice but to be 'gay'.
This Is Not Marvel's First Queerbaiting Attempt
Photo by Harry Q.
This is, by far, not the first time that LGBTQ+ fans have been sorely disappointed by the workings of Marvel and Disney. In fact, people across many social media platforms have been chiding expectant viewers for once again falling for classic queerbaiting tactics. "Being queerbaited by the MCU is like being a golden retriever with a human who always pretends to throw the ball", one Tumblr user declared.
Captain Marvel, starring Brie Larson, was the perfect moment for the MCU to introduce its first lesbian lead. Larson's character seemed to have an intense relationship with another woman, going so far as to help raise her child (before Larson's Carol Danvers disappeared from Earth for 6 years). Despite leaning into several romantic tropes, the status of their relationship was never fully fleshed out. However, it was also the franchise's first female-led superhero movie, so maybe they thought that introducing her as a lesbian would make the film too awesome.
The heavily anticipated Avengers: Endgame was also slated to introduce the MCU's 'first gay character'. While many fans were excited, particularly as this would be the second of Larson's appearances on screen, the big gay build-up was a massive letdown. The film's director Joe Russo made a cameo as a blip survivor mourning the loss of his husband. A five-second throw-away scene that had no impact on the outcome of the film. Big whoop...
Even when we did see a film with a gay lead, The Eternals, there were also ten other straight leads. At that point, it just seemed more like basic probability than an attempt at pushing LGBT+ superheroes into the spotlight.
Why Can't Disney Let Marvel Be Gay?
The big problem with allowing a few characters to be anything other than cishet is that there are still many countries in the world that outlaw homosexuality. As much as we like to think that the MCU is being made for comic book fans, we all know the purpose of the films is to make money for Disney. And without certain markets in Asia and the Middle East, Disney wouldn't be raking in up to (and over) one billion dollars per theatrical release.
Is There Any Hope For LGBTQ+ Fans In The MCU's Future?
Black Panther: Wakanda Forever, the second in the much-loved Black Panther arc, will be released in cinemas this November. The studio has confirmed that the film will contain a queer character. Actress Michaela Coel will play Aneka, a warrior, and trainer of the king's guard. Whether or not her diversity will stand out in the film (let alone endure for more than a 10-second scene that can be easily cut) remains to be seen.
Next year's The Marvels film, starring Brie Larson, Iman Vellani, and Lashana Lynch may offer the MCU a chance to redeem itself in the eyes of its LGBT+ fans. The studios may feel it's finally time to offer us the heartwarming lesbian relationship between Larson's
Carol Danvers
and Lynch's
Maria Rambeau
that seemed to be teased in the first Captain Marvel. Don't raise your hopes too high, though, as you may yet end up as a stubborn golden retriever waiting for a cinematic universe to finally throw that rainbow ball.
OUTvoices Cities
Copyright © 2022 OUTvoices