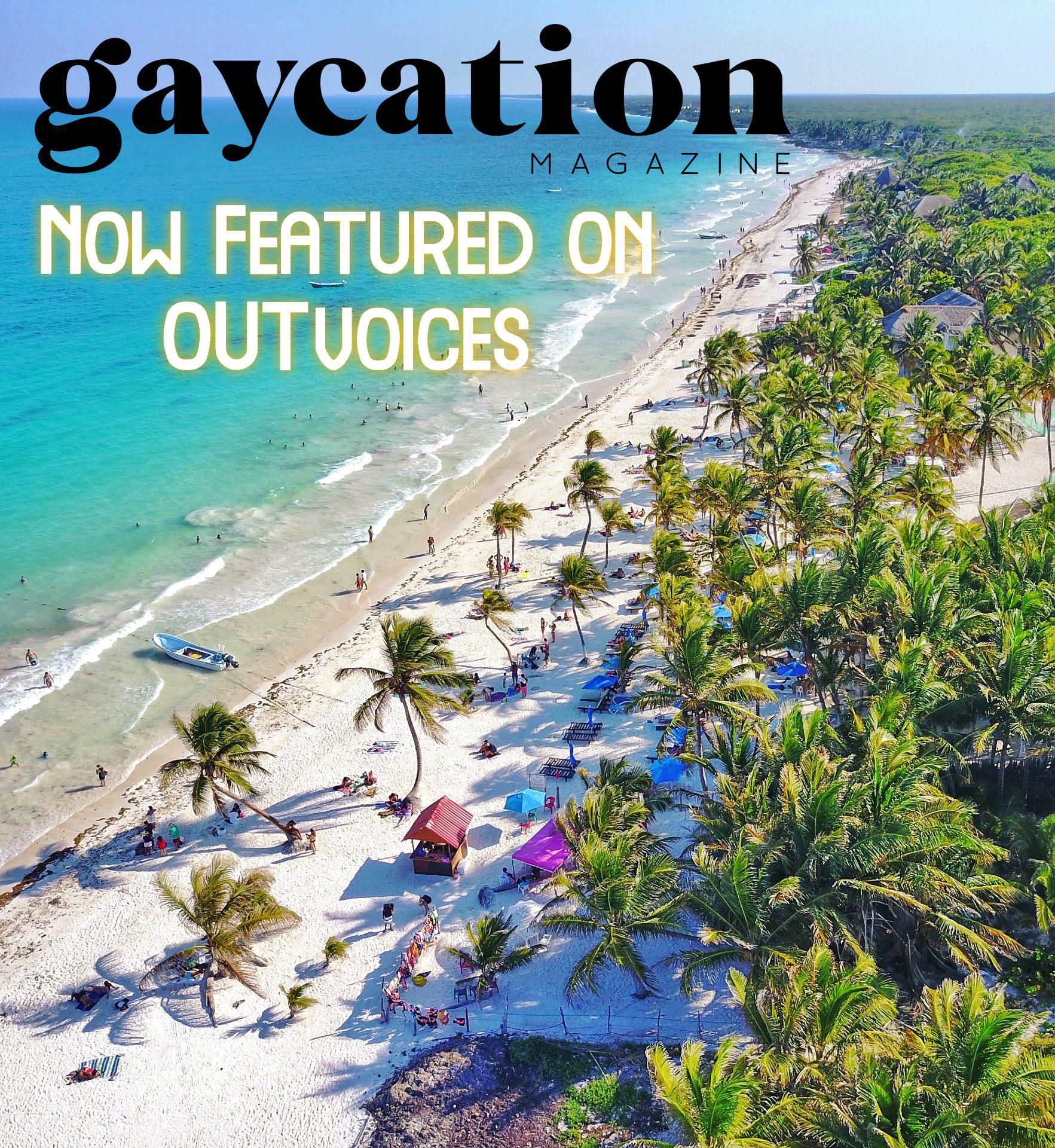 Trending around OUTvoices
Without any surprise, one of the most commonly determined goals for this year is to be happier. It doesn't matter what you secretly want, such as to lose a couple of pounds, build up your muscles or find the love of your life – the ultimate goal of every single one of us is the same – to be happy.
After all, anything that we want from life, we want so that it could bring us happiness. But happiness will not come to whomever, as every person needs to work hard and think long about all the things that make them happy and actually earn that happiness. The end of every year is the perfect time to start thinking about that, to reflect on the previous year, see the negative points that you never want to repeat again and then see what the aspects you need to focus on more are. Take a look at some of the ideas that will help you become a happier gay man in the next year.
Who cares what others have
The first and most important piece of advice would be to be who you are, but since this is as cliché as it can get, let's say that the first thing to do is not to compare yourself with other gay people. This is something that can create so many different issues – first of all, with your self-confidence and image which can have a big effect on your life, and secondly, it can affect your relationship with other people. There are certain things that are always "expected" from gay men, such as having abs, being very handsome, having crystal clear skin or dressing up in the latest fashion. Well, be who you are and never try to be someone else so that you can stand out. This is the most important tip you should follow as this is the only way you will truly be happy.
Make yourself a routine
Creating a routine for yourself and having activities that you enjoy doing on a daily basis is an essential thing for your happiness. What is important to know is that your habits create your mood, and the more interesting habits you have, the happier you will be. It is always a good thing when you get to come home from work and have certain things that you can get up to. However, it would be good that your routines in 2020 revolve around everything that is natural, healthy and organic. So, buying yourself a gym membership or taking up a sport are two great ideas. If you want to be bolder, you can always hit the best kratom shop and turn to natural products that will make your daily routine much more pleasant, and you happier. Remember that this doesn't have to necessarily be a daily routine that you have to create, but rather have several things that you like doing and can do from time to time when you want to feel better.
You are enough for you
Next up, we should turn to one of the biggest issues of unsatisfied people – the fact that they're single. Now, not all single people are unsatisfied, but the majority of people feel dissatisfaction once they have nobody by their side, which is one of the traits they definitely have to change. You do not need anyone else to tell you are perfect or amazing or pretty or beautiful, you do not need anyone so that you could feel validated. What you can do is spice things up, and if you are a sexual being, you can always find someone to spend several hot nights with. However, if you are looking for a relationship, you need to start with yourself and stop feeling sorry for yourself because you are single. This is what shows, and nobody wants to hit on someone who has a lot of negativity going on.
Socialize with positive people
Photo by Ba Phi from Pexels
There's nothing that works better for your own happiness than surrounding yourself with people that you love and people who are positive (obviously, you get the most of it when you combine these two and spend time with people who are both positive and very important to you). In 2020, it would be best to ditch negativity and leave it behind – even though it might be difficult, limiting the time you spend with negative people can definitely do wonders for your own mood and overall state of happiness.
Meditate
Finally, focus on yourself. It is 2020, so whatever you choose to do for your own well-being is definitely not something you should be embarrassed about. If yoga is something that is going to calm you down, take your stress away and thus make you a generally less unsatisfied person – so be it. You can also turn to meditation or simply spending time with your friends and laughing. Laughter is also one of the strongest remedies. You know what they say – when life gives you lemons, make a lemonade. Beyoncé made it and it's the best album of the decade.
Hopefully, you will be a better person in 2020. After all, it doesn't matter what you do and how others perceive you – if you like yourself, that's what matters. So, make the following a New Year's resolution – love yourself.
Who would have thought that we would have to get through a pandemic in order to appreciate the small things we have, such as the ability to simply pack our bags and hit the road?
For two years, there's been nothing left for us travel junkies to do but sit at home and try to find new destinations that we will conquer once we defeat what appears to be the biggest villain of the 21st century. But once that happens, hold your bags tight because we will be up for some of the most interesting travel experiences. Take a look at some ideas for your post-COVID traveling plans:
A gay cruise
One of the best options to have in mind when all of this passes is a good, nice and long (pun intended) gay cruise. Or cruise in general, for that matter. Bear in mind, social distancing will still be a thing in the post-COVID world. But COVID-19 likely doesn't mean that cruises will cease to exist. On the contrary, though cruise ships will probably keep the number of passengers smaller than before, it is believed that they will become an even bigger hit in the following period, especially because they are all going to go a lot more environmentally-friendly. On the bright side, is there any better way of celebrating the end of the pandemic than by cruising around some magnificent seas, stopping by at great cities and having romantic dinner nights at nice restaurants?
A getaway in nature
On the other hand, there is always the option of stepping away from the hustle and bustle of large cities, and spending some time in a place that's not only healthy, but also beautiful. Some of the destinations that plenty of people will look for are the ones that can cater for both peace of mind and amazing things to see or do. One such destination is New Zealand, one of the greenest countries on Earth right now. Not only will you be visiting the magnificent country that gave us the beautiful Shire from Lord of the Rings; this is also a destination that's excellent for everyone who prefers relaxing to partying. If you're up for some partying, you will be able to hit Auckland, while if you're for something calmer, there's plenty of amazing places that you can see and visit.
Dancing around at Pride
Pride parades are also events that you want to have in mind for the post-COVID world. Such events have always been quite important, but it seems that they are now more important than ever. The virus has canceled more than 75 Pride parades all around the world, which is one of the reasons why we must support the ones that will see the light of day once the pandemic stops. Truth be told, the upcoming Prides will perhaps be the best Prides ever organized. Give the gays a couple of weeks of quarantine, then let them outside and see what kind of party they are able to throw!
A road trip
If you're, as well, waiting for the day to wake up and say "long gone are the days when we were not allowed to go wherever we wanted?", and if staying at one place gave you a lot to think about, then your first post-COVID travel experience should definitely be a nice road trip. You can practically choose which country you want to tour, and you can either take your own car (you have probably missed it so much), or rent one at your destination. Australia is an amazing country for this, though, as it offers the possibility of seeing the Great Ocean Road, which is an amazing thing to see and experience. On the other hand, if you do not want or cannot leave your country, you can also choose to go on a domestic road trip – there are amazing things to see in your vicinity as well.
Holiday for a single guy
If you're single, or you're traveling someplace with another single friend, then you should definitely organize a nice vacation for yourself or for you and your single friend, and hit one of the best European cities. Europe has been greatly affected by the virus, which means that now it's time to pay it back and get it back on its feet by traveling there and seeing all the amazing things it offers. Any city you choose in Europe – you will not make a mistake. Apart from being able to see great landmarks, you will also have the chance to have a drink at great gay clubs and pubs, and join unforgettable gay parties. And if the gay scenery is not your forte, worry not, as Europe indeed has to offer so many different and magnificent things.
You might think that the moment you tie the knot with the same-sex partner, your concerns end (since we did have to go too far and endure too much for this to be legal), but this is only just the beginning.
First of all, congratulations on getting married, we do all wish you a lifetime of happiness. But, you might not have really thought about all the things that you are supposed to think about before tying the knot. Apart from the place where you will be living and the number of kids you want to have, you will have to think about finances and budgeting in general. Being married is not an easy, nor a cheap exercise, and living with someone has plenty of other expenses that you might not have taken into account. But, in order for this to go as painlessly as possible, take a look at some of the best budgeting tips for the two of you:
1. Talk about your priorities
The first thing that you need to do is make a list of the priorities that you might have as a married couple. Knowing these things in advance will not only help you save some more cash in the future, but it can also significantly enhance the communication between the two of you and prevent any future problems that you might face in regards to your relationship. Plenty of people fall out because of irreconcilable differences regarding finances, so the sooner you set these rules in stone, the better. What is your priority? Do you think that the most important thing to do is invest in the house? Do you want to travel, or perhaps invest in a new business? Make sure you talk this out with your partner, as this will be extremely helpful once you have to plan out your finances.
2. Planning out the finances
Now comes the tricky part, and that is planning out your finances. Allocating the amount of money that you will spend on different aspects of your life together is definitely not an easy task. In order to do this, calculate your monthly earnings on one side and write all of your necessary expenses on the other. Next up, try to allocate the amount of money that you will spend on traveling a year, and see if you have to save for that on a monthly basis or not. These are all the things that you are supposed to do if you want to travel effortlessly and to always have a ready fund for things like these. Also, bear in mind that no matter where you are in the world, you will be able to apply for a personal loan if you know where to look, so it would be good to know your finances in advance and plan things accordingly. Do not forget to add a fund for your house or apartment (as probably there will be things to be done there) and some bigger shopping.
3. Long-term planning
Planning is indeed a great thing, so the next step would be to plan bigger. Now, this is the time when you have to think about your long-term finances, and the things that you would like to have accomplished or bought by then. This is also a great way to avoid any arguments in the future. So, where do you see yourself in 20 or 30 years? Do you want to buy a car? Do you want to invest in a big house somewhere out of the city? Knowing these things in advance will only make this process easier when the time comes.
4. Have three different funds
In order to keep everything in perfect control and to avoid any conflicts in the future, it would be a good idea to have three different funds - one that is going to be for the both of you, and two for each of you. This will give both of you an illusion that you have "your own cash", even though you might not have the opportunity to spend it very often, it is a good feeling. This is also something that you can use if you want to make a purchase that your partner disapproves of. Surely, depending on the amount of money that you both earn a month or year, determine these two funds accordingly. Also, it would be a great idea to have exactly the same amount of money in those funds, regardless of how much each of you earns.
5. Have an emergency fund
Finally, there is another fund that you have to worry about, and that is the emergency fund. This is important for all the married people (and all people in general), but it might be slightly more important for LGBT people as you never know what tomorrow will bring and if you will have to spend a bit more on certain taxes or not. Yes, gay marriages are legal, but it is always to play it safe and keep an emergency fund in case something happens, and you cannot have control of the finances of your partner. Apart from that, this is a good idea as it is always better to be safe than sorry.
It might seem that you have to have different funds, and by having so, you will not see one dime from your salary. Yes, life is expensive nowadays, but with proper budget planning, you will be able to do a lot.
We're all clear on what we're supposed to do in order to be happy. Get the right job. Check. The right partner. Check. The right house. Check. So how come so many of us get all this stuff (or come close enough) and still can't relax and enjoy our life?
What many of us are missing is peace of mind. Unfortunately (or fortunately) this is not something you can buy in the designer department at Neiman-Marcus or build from carefully chosen lumber from Home Depot. Peace of mind means we like ourselves and we like other people; we feel safe in the world and trust ourselves.
No one I've ever met lives in such a place all the time, but we can all live here more-and-more. This column explores some ways to do so.
Photo by Ben White on Unsplash
Religion
There are more LGBT-friendly religions around to choose from than ever-before. Religion offers you a structure in which to pursue your inner peace. It also offers a community of fellow seekers. This is no small thing: to be part of a community seeking inner peace can be powerful. For some of us, this kind of structure may be a good fit, for others, it's too constricting. If you're looking for a community to support you and with whom you can share the highs and lows of a journey towards peace, a church, mosque, temple or religious community may be helpful.
Meditation
Meditation has often been portrayed as some big mysterious thing. The truth is, meditating is about being quiet and listening to yourself. Period. Your thoughts can drive you crazy - have you noticed? Meditation is simple: the hard part is just slowing down enough to do it. There are lots of different ways to meditate and there are several LGBT-friendly meditation groups here in San Diego County you can check out. The real benefit of meditation - whatever type you try - is that it helps you slow down and see what you're thinking and what's going on with you internally. This greatly increases your access to feeling peaceful and contented more of the time.
Photo by Nathan Dumlao on Unsplash
Cognitive therapy and affirmations
In some ways, cognitive therapy and doing affirmations are similar: both help you experience more peace of mind by replacing disturbing thoughts with neutral or positive ones. A simple cognitive technique is "thought replacement": you notice your thoughts, stop thinking the destructive ones and replace them with neutral or positive ones. Saying affirmations is similar: you repeat positive thoughts so they gradually replace your old, habitual negative thoughts.
What is a spiritual path and what does it have to offer? Most of us start on a spiritual path because we want a way out of our misery...we're tired of suffering. We want happiness and peace of mind. Most of my clients on a spiritual path have some sort of structure that supports their process of questioning and discovery: they may meditate, pray, go on silent retreats, etc. One good place to start on your own path is a book like Jack Kornfield's "A Path with Heart" or Pema Chodron's "The Places That Scare You." Yoga, chi gong, gardening, hiking in nature and even good ole' psychotherapy can be components of a spiritual path.
Without asking the right questions, we may foolishly believe that our happiness lies in external events or people that we cannot control. To find peace of mind we need to do inner work: it's a journey into yourself. You have your whole life to enjoy this journey, so relax. It's like growing a flower: you plant a seed, water it, care for it and allow it to unfold in its own time, or you can get out there with a knife and try to force the flower petals to open faster. Peace of mind is the same way: we plant seeds of peace and contentment, water them with prayer, meditation and whatever nurtures us, and allow it to unfold. And, when we do the work, it will...
About the Author
Michael Kimmel is a psychotherapist in San Diego, Calif. His website Life Beyond Therapy assists individuals and couples in their continued growth and development.
OUTvoices Cities
Copyright © 2022 OUTvoices