OUTvoices may earn a commission when you buy through links on our site.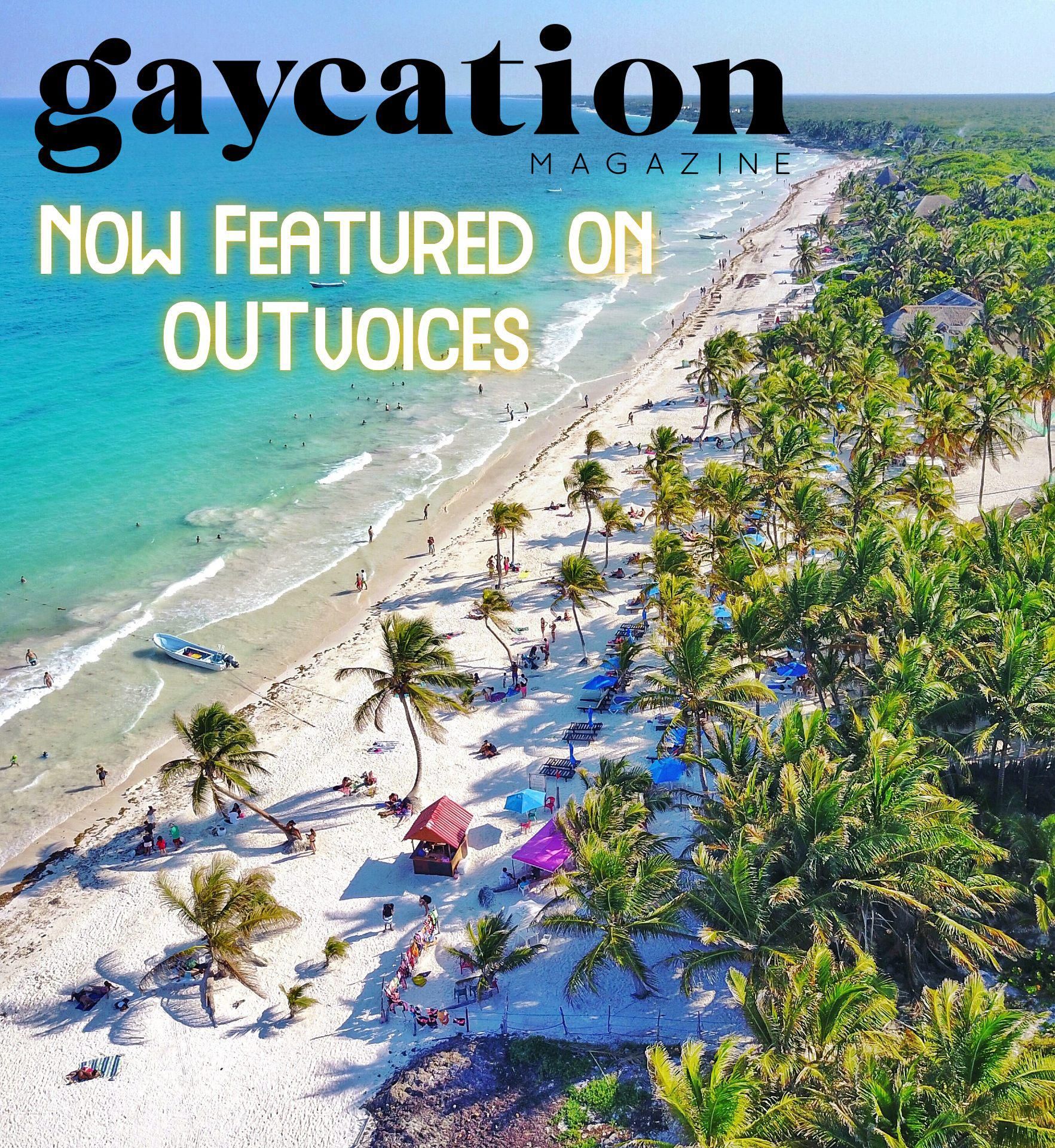 OUTvoices may earn a commission when you buy through links on our site.
Pride Month is officially here and with it comes all the excitement and enthusiasm of the passionate LGBT+ community. Big festivals and events are hosted all across the U.S. in June and wherever you are, you won't be far from a Pride Parade!
Participate in an Unforgettable Pride March!
Photo by Jana S.
Outside of the festivities, many U.S. cities contain longstanding museums, galleries, shops, and tours, all dedicated to promoting awareness of queer culture and history. If you can't make the trip for Pride Month, there are still plenty of LGBT+ activities to do.
Discover the best LGBT-friendly and queer-owned hotels, restaurants, and attractions in New York, Chicago, and San Francisco with this epic Pride Travel Guide!
New York City Pride
New York City always has the biggest parties!
Photo by Jessica I. (cropped)
In recent decades, New York has strived to become a symbol of acceptance towards the queer community. In fact, the city is estimated to contain one of the largest LGBT+ populations in the world. A cornerstone in gay rights activism, New York has seen significant historical events such as the 1969 Stonewall Riots and the 1966 Sip-in at Julius' Bar. And in 2019, New York made history by hosting the biggest Pride March ever, with an estimated 5 million people in attendance.
Popular LGBT+ neighborhoods in Manhattan include Chelsea, Hell's Kitchen, Greenwich Village, and the Lower East Side.
Pride Month in New York
Pride Month is a big deal in New York, as the city hosts dozens of LGBT+ events throughout the month. There are street fairs, concerts, symposiums, movie showings, and many more memorable experiences to be had. Pride Month also offers visitors the chance to connect and communicate with today's leading LGBT+ rights activists.
The most hyped events are Alegria Pride 2022, Planet Pride, Tribal Fever Afterhours, and Pride Island. All of these are mixed-music festivals promoting queer artists and DJs. Don't miss out on America's biggest annual Pride March: the New York City Pride March, which will be held on the 26th of June, 2022.
Where to Stay in New York City
Stay in the heart of the action in NYC!
Photo by Beyond My Ken
Hyatt Union Square New York
134 Fourth Avenue
New York, NY, 10003
The Hyatt Union Square is situated in the heart of Downtown Manhattan, near many of New York's most popular attractions. When you're not out sightseeing, you can rest in comfort in one of the Hyatt's spacious, pet-friendly rooms.
This modern hotel has a 24-hour gym (with complimentary fruit) and a business center. You can dine in the adjoining Bower Road restaurant for a fresh and healthy meal inspired by the local Union Square Greenmarket.
Solo travellers and groups both love staying at The Local NYC.!
Photo by Andrea D.
The Local NYC
13-02 44th Avenue
Queens, NY, 11101
A trendy hostel, favored by LGBT+ travelers, The Local NYC sits on the opposite side of the East River from central Manhattan. Solo visitors can book private rooms but most prefer the youthful social energy of the Local's dorm rooms.
The dorm bunk beds are of a simple, practical design and include a reading light and a lockable cabinet. The highlight of The Local NYC is its rooftop terrace with an incredible view over the glowing Manhattan skyline.
Where to Eat in New York
A historic bar in central Manhattan!
Photo by Steam Pipe
Julius' Bar
159 West 10th Street
New York, NY, 10014
+1 877 746 0528
Nestled inside Manhattan's enchanting Greenwich Village, Julius' Bar has been cheerfully serving customers since 1864. In fact, important steps towards the legal acceptance of gay bars across the nation were made inside the historic walls of Julius' Bar. It's now a popular place to visit for its grilled burgers and fabulous cocktails. Stop by on Tuesdays for Julius' Bar's special retro 'Tuesgay' disco nights.
A delightful burst of flavor!
Photo by Lily B.
Kopitiam
151 East Broadway
New York, NY, 10002
+1 646 609 3785
Kopitiam's LGBT+ owner and head chef Kyo Pang is proud to present her restaurant's Chinese and Malaysian-inspired cuisine. All produce is freshly sourced from local markets or Malaysia itself and the mouthwatering blend of flavors comes from Chef Pang's all-natural family recipes. Each dish is a new journey for the senses and the subtle spices will leave you wanting more. Don't arrive too late for lunch, though, as the popular restaurant fills up fast!
Things to do in New York City
Experience Pride History in New York!
Photo by Deirdre R.
Pride Walking Tour
38-64 Christopher Street
New York, NY, 10014
+1 860 670 8947
Many of the LGBT+ community's biggest triumphs and tragedies were forged in the dynamic streets of New York. To appreciate the significance of Pride Month in the big city, join in on an official Pride Tour.
As you walk through the streets of downtown Manhattan, your guide will lead you through the biggest events and crucial LGBT+ institutions in New York's history. Delve into the struggles of the past as you visit the Stonewall Inn, the Gay Street sign, the Gay Liberation Monument, and even Julius' Bar!
Learn about queer history and culture this Pride Month!
Photo by Ajay S. (cropped)
Leslie-Lohman Museum of Art
26 Wooster Street
New York, NY, 10013
+1 212 431 2609
The Leslie-Lohman Museum is a uniquely LGBT+ dedicated art gallery and museum, right in central New York. Admission is free so it's definitely worth a visit for the provocative emotions evoked by so many queer artworks.
Indeed, the goal of the museum is to create a committed space for LGBT+ artists and scholars to view or add work, and to open up conversations on the personal trials of the community. The Leslie-Lohman Museum currently has over 25,000 items.
Drink at one of New York's only Lesbian bars!
Photo by Jim H. (cropped)
Cubbyhole Bar
281 West 12th Street
New York, NY, 10014
+1 212 243 9041
If you're searching for a memorable night out in one of New York's few remaining lesbian establishments, then look no further than the Cubbyhole Bar. The Cubbyhole is an eclectic bar filled with colorful decorations and LGBT+ symbolism. Having opened in 1994, it has developed into a popular social hotspot for tourists and locals alike. Stop by between 4-7 pm on weekdays (2-6 pm on Saturday) to benefit from the Happy Hour deals.
Chicago Pride Fest
There's plenty of Pride Festivals in Chicago!
Photo by Norbu G. (cropped)
Chicago has slowly been working on LGBT+ rights for the last century, starting with America's first recognized gay rights organization in 1924. A Chicagoan, Jim Flint, also founded the Miss Continental pageant in 1980. This was the first beauty pageant where trans women were allowed to enter. Chicago is now a buzzing hotspot for queer nightlife, with 7.5% of the population identifying as LGBT+.
Chicago's biggest queer neighborhoods are Andersonville and Northalsted (which has earned the nickname 'Boystown').
Pride in the Park Festival
Pride Month in Chicago is celebrated by a series of festivals, drink events, and street markets. The massive Pride in the Park festival is headlined by The Chainsmokers and Alesso and features queer artists such as Rebecca Black, Spencer Brown, and Saucy Santana. The colorful Chicago Pride Parade takes place on the 26th of June, 2022.

Chicago Pride Fest
This legendary street festival is June 18-19 with the Pride Parade on June 26th. You can listen to headlining artists and local favorites on three stages, peruse over 150 arts and crafts booths and eat from a variety of local food and drink establishments.
Where to Stay in Chicago
Stay right near the Chicago nightlife!
Photo by Benjamin R.
Moxy Chicago Downtown
530 North LaSalle Drive
Chicago, IL, 60654
Based in the trendy River North district, home of Chicago's vibrant nightlife, the Moxy Chicago Downtown is the perfect LGBT-friendly destination. Each room has a stylish, contemporary design and includes an ensuite bathroom and a large Smart TV.
The Moxy features book and vinyl record libraries, a professional sound booth where guests can make recordings, and a fine-dining restaurant and bar with an outdoor patio.
Make new friends this Pride in Chicago!
Photo by Dimitri B.
Wrigley Hostel
3514 North Sheffield Avenue
Chicago, IL, 60657
This fantastic hostel, located near the beach and Boystown, is way more than just a place to sleep for the night. Wrigley specializes in social vacations, with a computer room and a common room, containing a pool table, a ping pong table, foosball, board games, and a Bring Your Own Booze bar. There's also a communal outdoor lounge with a BBQ for summer grilling.
Wrigley Hostel hosts parties and events most evenings, from pizza and movie nights to epic bar crawls. Sleep easy in a private room or forge new friendships in a mixed or female-only dorm.
Where to Eat in Chicago
Satisfy your Tex-Mex cravings in Chicago!
Photo by Hybrid Storytellers
D. S. Tequila Co.
3352 N Halsted Street
Chicago, IL, 60657
+1 773 697 9127
D. S. Tequila Co. is a hip and trendy Tex-Mex place, located within close walking distance to many of Chicago's biggest attractions. Their famous handmade flour tortillas are always filled with fresh ingredients and each dish is made to order, meaning you can remove any sauces or veggies that aren't to your taste.
The Tequila Co. is, unsurprisingly, a great place for drinks with over a dozen beers on tap and pitchers of margaritas abound. Stop by on Friday and Saturday evenings to listen to a DJ set as you feast on classic Tex-Mex in the greenhouse patio, which has a retractable roof!
Dine at a famous Chicagoan LGBT+ establishment!
Photo by Thomas H.
Big Chicks & Tweet
5024 N Sheridan Rd
Chicago, IL, 60640
+1 773 728 5511
Big Chicks and Tweet are Chicago's famous 2-in-1 gay bar and organic restaurant. Based in the Uptown area, with a timeless art deco design, Big Chicks acts as an informal LGBT+ community center. The bar was actually inducted into the Chicago LGBT Hall of Fame in 2016.
The adjacent Tweet restaurant serves food to its own customers and those of the bar. Breakfast and Lunch are offered in Tweet, where you'll find a delightful range of classic dishes, with a Chicago twist. Dinner, however, can only be ordered in Big Chicks.
Things to do in Chicago
See the show that redefines live entertainment!
Photo by Inside the Magic
Blue Man Group
3133 N Halsted Street
Chicago, IL, 60657
+1 800 258 3626
For a whirlwind experience of music, performance art, and technological displays, check out Chicago's own Blue Man Group. A show that defies definition, the Blue Man Group was founded on the principle that entertainment can transcend language barriers if none of the performers speak. Instead, they play custom instruments and present comedic skits.
Although not explicitly an LGBT+ event, many of the Blue Men identify as queer. The Blue Man Group promises a unique and unforgettable performance that will change the way you view live entertainment. Warning: those sitting near the front may get splashed.
What treasures can you find at the Andersonville Galleria?
Photo by Joshua F. (cropped)
Andersonville Galleria
5247 N Clark Street
Chicago, IL, 60640
+1 773 878 8570
At the center of the dynamic Andersonville district sits the curious Andersonville Galleria. A veritable maze of over 100 tiny shops and market stalls, this Galleria is an indoor boutique wonderland. The businesses are run by local merchants, many of whom are LGBT+.
Don't expect to walk away empty-handed as you will definitely be enticed by the astonishing array of unique artworks and artisan products on display.
See the small Chicago bookstore that's changing minds and lives!
Photo by Veronika J. (cropped)
Women and Children First
5233 N Clark Street
Chicago, IL, 60640
+1 773 769 9299
Right next door to the Galleria is the amazing Women and Children First bookshop. Founded with a belief that literature has the power to change hearts and minds, the bookstore is dedicated to stories by and about women.
As self-proclaimed 'intersectional trans-inclusive feminists', Women and Children First acts to educate visitors on feminist and LGBT+ issues. With over 20,000 books in stock, the store encourages young readers to ease into the works with book reading events and virtual conversations with authors.
San Francisco Pride 
Celebrate Pride in the Gay Capital of the World
Photo by Piotr M. (cropped)
San Francisco is often lovingly referred to as 'The Gay Capital of the World'. Indeed, 'Frisco has a long history of LGBT+ residents, starting from the beginning of the 20th century. In 1961, San Francisco had the first openly gay candidate running for a US public office position. In 1965, the first Gay Liberation organization in America was founded there. San Francisco also does a lot for trans activism, including the annual Trans March on June 25th, one of the world's largest events for transgender visibility.
Although most of the city is a diverse mixture of LGBT+ identifying people and allies, there are a few prominent queer neighborhoods. The most popular LGBT+ districts are The Castro, The Mission, and SoMa.
Pride Month in San Francisco
Pride Month in San Francisco brings with it a wave of music and film festivals, and in-person and virtual talks with LGBT+ activists. The biggest music event is the Fresh Meat Festival, featuring queer and transgender artists. There will also be food, craft, and resource fairs surrounding the big marches.
The annual San Francisco Pride Parade will be hosted in the city on the 26th of June, 2022.

Where to Stay in San Francisco
An elegant stay in central San Francisco!
Photo by Kenny E.
Parker Guest House
520 Church Street
San Francisco, CA, 94114
+1 415 621 3222
The Parker Guest House is an enchanting hotel in central San Francisco, presenting a subdued, luxurious elegance in each spacious room. Formed from early 19th-century mini-mansions, Parker Guest House offers comfort and class with each stay. Guests can wander around the verdant gardens, listen to piano music in the lounges, or join a complimentary wine social in Parker's sunroom.
The Orange Village Hostel is a short walk from the hsitoric Union Square!
Photo by Shaunak D.
Orange Village Hostel
411 O'Farrell Street
San Francisco, CA, 94102
+1 415 409 4000
Stay near some of San Francisco's biggest attractions in the Orange Village Hostel. Offering cheap yet comfortable private rooms, and beds in male and female dorms, the Orange Village Hostel is the best place to stay in San Francisco on a budget.
The hostel has a communal lounge where they host pizza nights and organize fun activities and events. They are also happy to provide you with lots of local information for your stay in 'Frisco.
Where to Eat in San Francisco
Come here for a rich, hearty meal in San Francisco!
Photo by Maddi B.
Kitchen Story
3499 16th Street
San Francisco, CA, 94114
+1 415 525 4905
Kitchen Story in The Castro is a relatively new and incredibly popular restaurant that serves an exceptional blend of Thai and American cuisine. Kitchen Story specializes in delicious, filling brunches.
Their feature ingredient is the sweet and spicy millionaire's bacon. This mouthwatering treat comes as a topping for burgers, eggs, or french toast. If it isn't included with your dish but you really want to try it, you can order the millionaire's bacon as a side.
Eat at this amazing LGBT-owned establishment!
Photo by Thomas H.
Orphan Andy's
3991 17th Street
San Francisco, CA, 94114
+1 415 864 9795
Welcome to The Castro's famous all-day breakfast, sandwich, and burger bar. Owned by husbands Bill Pung and Dennis Zieball since 1977, Orphan Andy's is one of the beating hearts of San Francisco's LGBT+ community.
The interior has a homely design, with red leather on the booths and bar stools, and neon-lined wood paneling all around. This vintage style makes it easy to relax into a good American meal as you imagine the decades of queer history that this 'Frisco landmark has seen.
Things to do in San Francisco
Experience San Francisco's best open-air LGBT exhibit!
Photo by Greg R.
Rainbow Honor Walk
499 Castro Street
San Francisco, CA, 94114
When you find a beautiful sunny day and want to immerse yourself in queer history as you stroll in the fresh air, visit the Rainbow Honor Walk. Nestled in the heart of The Castro, the Rainbow Honor Walk is styled after the Hollywood Walk of Fame. Only instead of stars, there are large bronze plaques dedicated to the world's greatest LGBT+ pioneers.
Here you can walk over rainbow crosswalks that interlink facts and stories on some of the greatest queer influencers of the 20th century. It's the perfect open-air exhibition to learn about well-known and under-represented figures, including Virginia Woolf, Oscar Wilde, Frida Kahlo, Glenn Burke, Freddie Mercury, and Alan Turing.
See the best of San Francisco from a 70s VW campervan!
Photo by Nick K. (cropped)
San Francisco Love Tours
2899 Hyde Street
San Francisco, CA, 94109
+1 415 366 6156
Experience the best of historic San Francisco from inside a groovy 70s VW Campervan. This 2-hour daytime tour is an intimate way to learn about love throughout the ages in the Golden City, with only 6 people maximum per bus. Along the drive, you will hear interesting facts and exclusive stories from your local guide.
Featured locations on the tour include historically LGBT+ districts such as The Castro and The Mission, and the famous crooked Lombard Street. The hippie bus stops twice for photo opportunities: at the Golden Gate Bridge and for a view of the San Francisco Skyline.
Gain a fascinating new perspective on LGBT+ history in San Francisco.
Photo by Jason L. (cropped)
GLBT Historical Society
4127 18th Street
San Francisco, CA, 94114
+1 415 777 5455
An internationally-recognized leader in LGBTQ public history, the GLBT Historical Society was founded in 1985 to promote, and make accessible, queer history and culture. Now, it proudly presents a museum in The Castro district and, though it is small, it definitely packs a punch.
Don't be afraid to spend time reading faded letters or watching the mini-documentaries. Visitors come to learn about and understand queer struggles through the last decades. The biggest impact is often made by the genuine Harvey Milk bullhorn in his campaign exhibit.
Photo courtesy of KimChi Chic Beauty
If you haven't heard of Kim Chi, she is the first Korean-American on RuPaul's Drag Race and was named one of the most powerful drag queens in America. Kim Chi was runner-up on Season 8 of RuPaul's Drag RaceRuPaul's Drag Race and was sent home by Bob The Drag Queen later in the season. Well, since then, she's been quite busy. She started her own makeup line and has been making appearances all over the place. Now, she's teamed up with none other than Trixie Mattel to do a limited edition makeup collaboration.

We got in a little chat with Kim Chi where she talks about life, love, the runway...nah, just kidding. She did take some time out to answer a few questions for us on what it was like being on RPDR, what one product she can't live without, and so much more.
All of the products are cruelty-free and 2% of all sales to The Trevor Project. If you haven't checked out Kim Chi's beauty line, you should, the KimChi Chic Beauty line is stocked with a ton of makeup products and that bowtie is pretty cute too.
Q: What brought you to the decision to start a makeup line?
WTHighlight Double Diamonds makeup
Photo courtesy of KimChi Chic Beauty
A: The options were very limited for good affordalbe makeup, so it was important to me to create quality makeup that every makeup lover could enjoy.

Q: What does the collaboration between you and Trixie Mattel look like?
A: Putrid. Pungent. Audacious. It is a perfect representation of both Trixie and my style!
Q: Where and how did the two of you meet and subsequently become BFFs?
A: She stalked me on Facebook and forced me to book her in Chicago. Haven't been able to get away from her since!
Q: What makeup product can you NOT live without?
A: Definitely eyeliner. The KimChi Chic Beauty Stage Proof Liquid Liner and The Effin Liner never leaves my makeup kit.
Q: Can you give us some makeup tips? 
A: Don't be afraid to experiment. It's okay to wipe away mistakes and start over if needed.
Q: How has appearing on RuPaul shaped your lives, career, and outlook?
A: It has made me the 17th most powerful drag queen in the world according to some list by a famous publication. Kidding again! It gave me this really amazing platform to live out my wildest dreams, connect with people all around the world, and hopefully inspire others like myself. It showed me the importance of holding on to your passions and living life authentically.
Q: What are your top 3 charities to support?
A: Seniors Fight Back, The Trevor Project, Elton John Aids Foundation
Q: What 2 things would you say to an aspiring drag queen?
A: Success doesn't happen overnight, be patient and prepare to spend a lot of money!
Q: How big of a difference is it between your drag queen persona and non-drag queen persona? Or is there? Do you sometimes forget when you're "on" or "off"?
A: It depends on whether I'm wearing a wig or not. Kim is a little louder, snarkier, and outgoing than Sang.
Q: What's next? You have the appearances, the collaboration, the friendship…What is on the horizon?
A: Lots of touring, more KimChi Chic Beauty launches, and one day...hopefully, retirement!
Q: What would you be doing if you weren't a drag queen performer and makeup entrepreneur?
A: Before doing drag I was an art director, so probably something similar relating to fashion design, art, or something similar.
KimChi Chic Beauty
KimChi Chic Beauty and Trixie Mattel Makeup Line
Photo courtesy of KimChi Chic Beauty
You can see the limited edition Trixie x Kim Chi Collab BFF4EVR on KimChi's Chic Beauty site. It's a fun and whimsical product line. The limited edition includes 5 different products with various shades and colors to choose from as well as a KimChi and Trixie Girl Fan or purchase the entire line in one bundle.
Photo courtesy of Rumble Boxing Gulch Nashville
Rumble Boxing, the boxing-inspired group fitness studio, opened its doors for the first time in Nashville on June 20 at 609 Overton St, Nashville, TN. The hottest workout on the block is hosting its official grand opening from August 4th-7th with daily classes, membership specials, and prizes from local vendors. The new Rumble Boxing studio is currently offering a buy one class, get one free promotion for the Nashville community.
Rumble Boxing delivers 45-minute, 10-round, strength and conditioning group workouts, crafted around teardrop-style aqua boxing bags and high-intensity strength training circuits. This brings all fitness levels together to experience what Rumble is known for: combining the sweet science of boxing with high energy and positive vibes.
Boutique Fitness
Rumble Boxing Fitness Studio
Photo courtesy of Rumble Boxing Gulch Nashville
This boutique fitness brand offers serious benefits like increased stamina and strength, with cardio that's actually fun. The seasoned trainers at the new studio are thrilled to serve their local community while offering this fun, new modern approach to boxing and welcome members of all fitness levels to the Rumble family.
The new Rumble Boxing studio is owned and operated by Blake Baskin and Antonio Compton. With their background in the fitness industry, this dynamic duo is excited to bring their passion for boxing and group fitness to Nashville. As business and life partners, Blake and Antonio aim to create a strong community within their new Rumble Boxing studio and share their message of non-apologetic inclusivity.
Black and Gay-Owned Business
Rumble Boxing Store with Dolly Parton Mural
Photo courtesy of Rumble Boxing Gulch Nashville
​"We own who we are, and this brand aligns with that perfectly," said Antonio. "This is what we want to create and bring to this community: a fitness class that is designed for anyone and a place for people to be who they are. As a Black and gay-owned business, we want to help lower the division we see in the world right now. Our goal is to bring people together through Rumble, set everything aside, and have fun."
To echo their message of acceptance and inclusion, Blake and Antonio commissioned a local Nashville artist to paint an 11 X 6-ft. mural of Nashville icon and philanthropist, Dolly Parton. The massive portrait features the country star in Rumble Boxing gear in the lobby of the studio.
The excitement and buzz around Rumble allowed Blake and Antonio to recruit top-tier trainers to head up the new studio, including Head Trainer Oronde Jones, a well-known celebrity trainer in the Nashville market.
Rumble Boxing Fitness Studio
Photo courtesy of Rumble Boxing Gulch Nashville
"Compared to other fitness classes, Rumble is a class you can truly get lost in for 45 minutes. With the dark room, you don't have to worry if anyone is paying attention to you. The music is awesome and inspiring, and the beat drops right when you need it the most. Also, with boxing being a sport you can never truly master, you're always improving and crafting your skill. On the floor, you're consistently doing something new, which prevents you from ever hitting a plateau." Said Oronde Jones about his favorite part of Rumble.
Rumble has massive brand loyalty and widespread appeal, partly thanks to attracting top names like Justin Bieber, Selena Gomez, Kendall Jenner, Hailey Baldwin, Jason Derulo, David Beckham, and Kevin Hart to its studios.
About Rumble Boxing
Founded in New York City in 2017, Rumble is a group fitness concept delivering a mix (or combination) of boxing-inspired circuits and the transformative power of resistance training. Pro and amateur fighters glove up together, no matter their fitness level or skill, to reveal their inner fighter. The experience is a 45-minute, 10-round, full-body cardio and strength workout crafted around specially designed water-filled, teardrop-style boxing bags. Rumble was founded by Noah Neiman (former Barry's Bootcamp Master Trainer, and cast member of Bravo's Work Out New York), Eugene Remm (Co-Founder of Catch Hospitality Group (Catch Restaurants, CATCH STEAK, Lexington Brass), Andy Stenzler (Co-Founder Cosí, Kidville), and Anthony DiMarco (13-time IRONMAN, former Managing Director, Google).
Like many of the recent Marvel Cinematic Universe films, LGBTQ+ fans awaited the release of Thor: Love and Thunder in open anticipation of the inclusivity that both Marvel and Disney had promised. However, the fans were only setting themselves up for disappointment when the film was finally released.
Despite passionate assurances from studio heads to key actors,
Thor: Love and Thunder
was NOT spectacularly gay. It wasn't even that good…
Premiere Night Promises
Lightning bold across the sky
Photo by Bill D.
Standing on the red carpet at the London Premiere of the film, director and actor Taika Waititi and fellow cast members Natalie Portman and Tessa Thompson were offered up the inevitable question: "How gay is the film?"
Amidst some laughter from the crowds, Waititi gestured towards Portman to respond. The actress (who plays Thor's love interest, Jane Foster, throughout the franchise) raised the microphone to her lips and thought for a moment, before delivering a quiet yet fateful: "So gay!"
Barely a moment had passed before the gathered fans went wild and Taika Waititi gave his own verdict: "
Super gay!
". Tessa Thompson made no statement on the 'gayness' of the film, instead opting to swing her microphone around suggestively. As more cheers erupted, a second round of "super gay" slipped out of Waititi's mouth, before he urged the fans to enjoy the film.
Thor: Love and Thunder's LGBTQ+ Potential
Thor's movie-goers were definitely hyped up for a gay extravaganza and they had a specific character in mind. The fan-favorite Valkyrie, played by Tessa Thompson, stumbled her way into the MCU during Thor's third film, Ragnarok. The Asgardian warrior won many people over with her wit, sarcasm, and pure badassery.
After the events of Avengers: Endgame *spoilers*, Thor Odinson gives up his claim to the throne of Asgard and names Valkyrie as king in his stead. This left many fans excited to see what would become of the character, especially after certain revelations were made at the 2019 San Diego Comic-Con:
"As a new king, she has to find her queen. So that'll be her first order of business."
With these words, Tessa Thompson threw her LGBTQ+ fans into a frenzy, with heavy expectations for the then-upcoming fourth installment of the Thor films. Indeed, in an interview with the LA Times, shortly before the film's release, Tessa Thompson was asked to comment on the sexuality of her character. She responded with several promising remarks, including "there's a lot of folks that are righteously very hungry for that representation to exist in these movies, as am I".
*Warning: spoilers ahead!*
So, How Gay Was Thor 4?
To put it simply: not gay at all. Not only did Valkyrie end up without a fabulous new queen, her non-heteronormative sexuality only got the barest mention (a brief line about a previous, now dead, girlfriend). Valkyrie may have made bedroom eyes at some pretty ladies before an action scene spoils the moment, but that's about as much as we get.

The film does get some credit for introducing a trans character in a minor yet significant role. Thor returns to his people (after a brief stint as a Guardian of the Galaxy) only to find out that the daughter of one of his closest (and deceased) friends is now a boy. The issue is, whether due to personal prejudice or some alien inability to grasp the concept of being transgender, it does take Thor a frustrating few moments to come to terms with the change. And to stop deadnaming.
In fact, the only concession to the queer community was Taika Waititi's extraterrestrial character
Korg
finding a husband in one of the closing scenes. This heartfelt moment was somewhat underscored by the revelation that Korg's entire species is male, meaning he had no other choice but to be 'gay'.
This Is Not Marvel's First Queerbaiting Attempt
Photo by Harry Q.
This is, by far, not the first time that LGBTQ+ fans have been sorely disappointed by the workings of Marvel and Disney. In fact, people across many social media platforms have been chiding expectant viewers for once again falling for classic queerbaiting tactics. "Being queerbaited by the MCU is like being a golden retriever with a human who always pretends to throw the ball", one Tumblr user declared.
Captain Marvel, starring Brie Larson, was the perfect moment for the MCU to introduce its first lesbian lead. Larson's character seemed to have an intense relationship with another woman, going so far as to help raise her child (before Larson's Carol Danvers disappeared from Earth for 6 years). Despite leaning into several romantic tropes, the status of their relationship was never fully fleshed out. However, it was also the franchise's first female-led superhero movie, so maybe they thought that introducing her as a lesbian would make the film too awesome.
The heavily anticipated Avengers: Endgame was also slated to introduce the MCU's 'first gay character'. While many fans were excited, particularly as this would be the second of Larson's appearances on screen, the big gay build-up was a massive letdown. The film's director Joe Russo made a cameo as a blip survivor mourning the loss of his husband. A five-second throw-away scene that had no impact on the outcome of the film. Big whoop...
Even when we did see a film with a gay lead, The Eternals, there were also ten other straight leads. At that point, it just seemed more like basic probability than an attempt at pushing LGBT+ superheroes into the spotlight.
Why Can't Disney Let Marvel Be Gay?
The big problem with allowing a few characters to be anything other than cishet is that there are still many countries in the world that outlaw homosexuality. As much as we like to think that the MCU is being made for comic book fans, we all know the purpose of the films is to make money for Disney. And without certain markets in Asia and the Middle East, Disney wouldn't be raking in up to (and over) one billion dollars per theatrical release.
Is There Any Hope For LGBTQ+ Fans In The MCU's Future?
Black Panther: Wakanda Forever, the second in the much-loved Black Panther arc, will be released in cinemas this November. The studio has confirmed that the film will contain a queer character. Actress Michaela Coel will play Aneka, a warrior, and trainer of the king's guard. Whether or not her diversity will stand out in the film (let alone endure for more than a 10-second scene that can be easily cut) remains to be seen.
Next year's The Marvels film, starring Brie Larson, Iman Vellani, and Lashana Lynch may offer the MCU a chance to redeem itself in the eyes of its LGBT+ fans. The studios may feel it's finally time to offer us the heartwarming lesbian relationship between Larson's
Carol Danvers
and Lynch's
Maria Rambeau
that seemed to be teased in the first Captain Marvel. Don't raise your hopes too high, though, as you may yet end up as a stubborn golden retriever waiting for a cinematic universe to finally throw that rainbow ball.
OUTvoices Cities
Copyright © 2022 OUTvoices