OUTvoices may earn a commission when you buy through links on our site.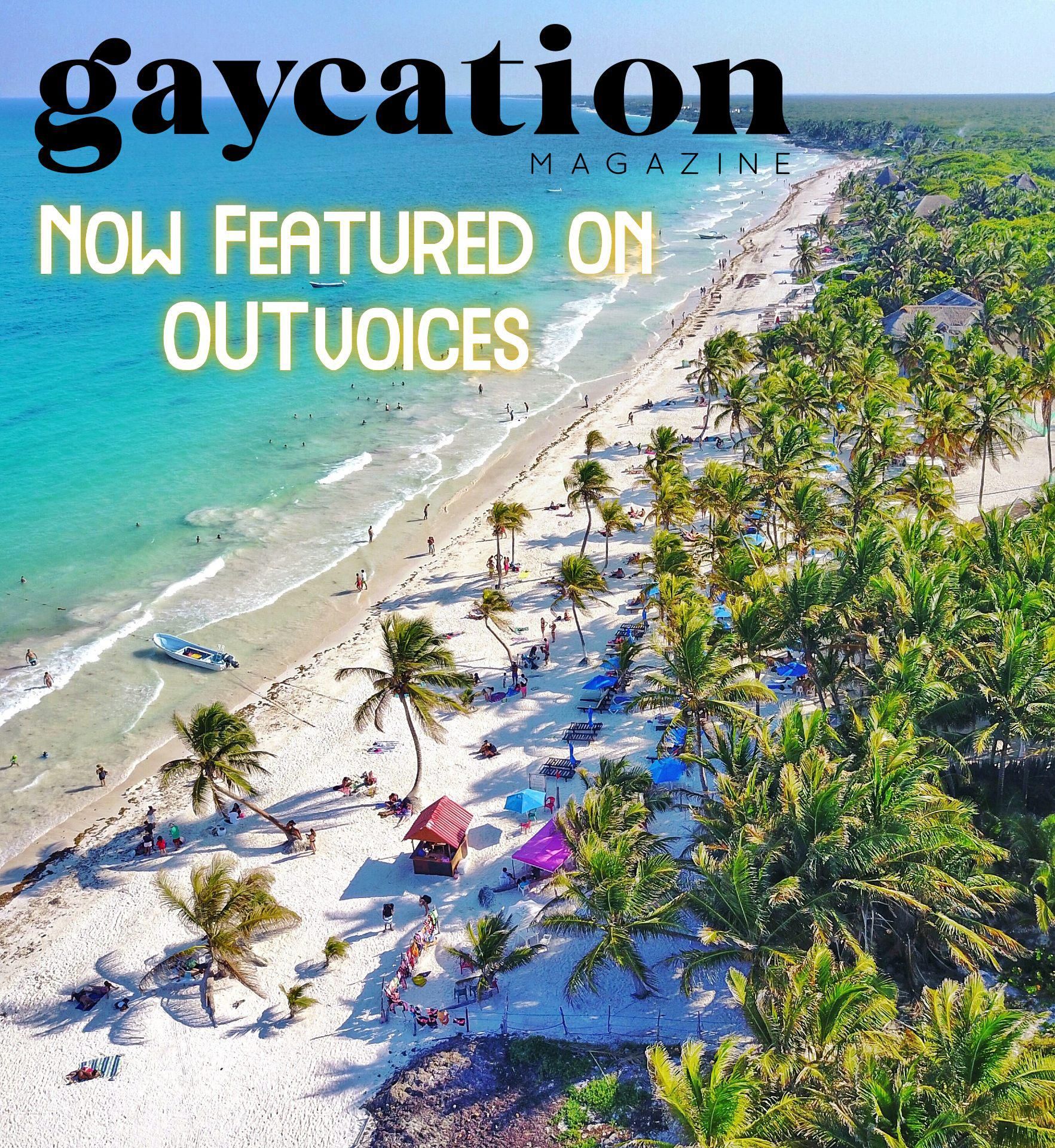 Who would have thought that we would have to get through a pandemic in order to appreciate the small things we have, such as the ability to simply pack our bags and hit the road?
For two years, there's been nothing left for us travel junkies to do but sit at home and try to find new destinations that we will conquer once we defeat what appears to be the biggest villain of the 21st century. But once that happens, hold your bags tight because we will be up for some of the most interesting travel experiences. Take a look at some ideas for your post-COVID traveling plans:
A Gay Cruise
One of the best options to have in mind when all of this passes is a good, nice and long (pun intended) gay cruise. Or cruise in general, for that matter. Bear in mind, social distancing will still be a thing in the post-COVID world. But COVID-19 likely doesn't mean that cruises will cease to exist. On the contrary, though cruise ships will probably keep the number of passengers smaller than before, it is believed that they will become an even bigger hit in the following period, especially because they are all going to go a lot more environmentally-friendly. On the bright side, is there any better way of celebrating the end of the pandemic than by cruising around some magnificent seas, stopping by at great cities and having romantic dinner nights at nice restaurants?
A getaway in nature
On the other hand, there is always the option of stepping away from the hustle and bustle of large cities, and spending some time in a place that's not only healthy, but also beautiful. Some of the destinations that plenty of people will look for are the ones that can cater for both peace of mind and amazing things to see or do. One such destination is New Zealand, one of the greenest countries on Earth right now. Not only will you be visiting the magnificent country that gave us the beautiful Shire from Lord of the Rings; this is also a destination that's excellent for everyone who prefers relaxing to partying. If you're up for some partying, you will be able to hit Auckland, while if you're for something calmer, there's plenty of amazing places that you can see and visit.
Dancing Around at Pride
Pride parades are also events that you want to have in mind for the post-COVID world. Such events have always been quite important, but it seems that they are now more important than ever. The virus has canceled more than 75 Pride parades all around the world, which is one of the reasons why we must support the ones that will see the light of day once the pandemic stops. Truth be told, the upcoming Prides will perhaps be the best Prides ever organized. Give the gays a couple of weeks of quarantine, then let them outside and see what kind of party they are able to throw!
A road trip
If you're, as well, waiting for the day to wake up and say "long gone are the days when we were not allowed to go wherever we wanted?", and if staying at one place gave you a lot to think about, then your first post-COVID travel experience should definitely be a nice road trip. You can practically choose which country you want to tour, and you can either take your own car (you have probably missed it so much), or rent one at your destination. Australia is an amazing country for this, though, as it offers the possibility of seeing the Great Ocean Road, which is an amazing thing to see and experience. On the other hand, if you do not want or cannot leave your country, you can also choose to go on a domestic road trip – there are amazing things to see in your vicinity as well.
Holiday for a single guy
If you're single, or you're traveling someplace with another single friend, then you should definitely organize a nice vacation for yourself or for you and your single friend, and hit one of the best European cities. Europe has been greatly affected by the virus, which means that now it's time to pay it back and get it back on its feet by traveling there and seeing all the amazing things it offers. Any city you choose in Europe – you will not make a mistake. Apart from being able to see great landmarks, you will also have the chance to have a drink at great gay clubs and pubs, and join unforgettable gay parties. And if the gay scenery is not your forte, worry not, as Europe indeed has to offer so many different and magnificent things.
Which cities in America will set you back the most when you open your wallet or purse for a New Year's Eve crash pad?
With a nightly rate of $365 for the least expensive room, Miami Beach emerged top of the rankings as the most expensive in accommodation for the last night of the year.New Orleans is the second most expensive destination in the world for overnight accommodation this coming New Year's Eve, according to a survey by
CheapHotels.org.



And Nashville completes the podium positions, with rates of $304 and $284, respectively, for the most affordable room.
The survey compared hotel rates in 50 major cities globally. For each destination, the price for the cheapest available double room for a 3-night stay from 30 December-2 January was recorded. Only centrally-located hotels rated at least three stars and with generally positive guest reviews were taken into account.
Cancun is the priciest non-US city with a rate of $228 per night, ranking it 5th overall. The Scottish capital of Edinburgh ($221) in the UK is the most expensive "European" destination, while Rio de Janeiro ($206) in Brazil came out as the priciest city in Latin America.

The survey results also highlight how the Covid-19 pandemic is still impacting significantly on hotel prices globally. For example, in Dubai, United Arab Emirates, and Sydney, Australia, both of which were among the most expensive destinations for New Year's Eve accommodation, pre-pandemic, back in 2019, rates are between 40-50% lower this year.
In Hong Kong, which has largely restricted incoming tourism to try to stop the spread of coronavirus, prices are down even more, by up to a startling 70%.
World's Priciest Destinations For Accommodation New Year's Eve 2021



Miami Beach $365
Photo by
Marc Fanelli-Isla
on
Unsplash
New Orleans $304
Photo by
Morgan Petroski
on
Unsplash
Honolulu $264
Photo by
AussieActive
on
Unsplash
Cancun $228
Photo by
Gerson Repreza
on
Unsplash
Edinburgh $221
Photo by
jim Divine
on
Unsplash
Rio de Janeiro $206
aerial photography of cityscape near seaPhoto by
Agustin Diaz Gargiulo
on
Unsplash
Los Angeles $205
bus on road near building at daytimePhoto by
Olenka Kotyk
on
Unsplash


For the full results of the survey, check:
https://www.cheaphotels.org/press/nyeve21.html
From Your Site Articles
Related Articles Around the Web
If you are itching to get out and see the world after almost two years of confinement then travel experts say you need to book airline tickets now even if your plans aren't scheduled until spring 2022.
With gas prices soaring and airlines still running below their normal fleets sizes, there are going to be some problems. Factor that into a post-pandemic world soft opening and the normal cast of characters you'll have to deal with in a public forum and there's a perfect storm of possible obstacles that could hamper your well-planned trip.
"Christmas holidays are expected to be busier than 2019, now that's a little bit hard to buy into when you consider they're flying fewer planes. It may mean though that they're flying those planes at near 100 percent," Donald Oneal, President of Travel World told ABC News.
Any seasoned traveler knows that padding their itinerary with time and delay expectations is not only smart but necessary for good mental health.
It may seem obvious, but booking flights and car rentals on off-days is a great principle. Your nerves and bank account won't suffer as much as those waiting until the last minute.
For example, traveling between December 20 through December 28 is going to be more expensive with the exception of Christmas Day.
Federal vaccine mandates are also something to consider. Starting in early December both American and Southwest Airlines will require their employees to be vaccinated while Delta is still considering whether or not they have to follow that rule. Nonetheless, according to federal law, companies with 100 staff members or more will need to show proof of vaccination or get tested weekly.
United Airlines has preemptively mandated that all of its employees get vaccinated. Domestic travelers are not required to show proof of vaccination, but international travelers must provide proof or provide a negative test result within three days prior to departure.
It's not expected that international travel will be as popular as domestic travel this year and into 2022.
"Some of the biggest destinations people are going to, Vegas, Miami, and you guessed it, Tampa Bay," said Willis Orlando, Product Operations Specialist with Scott's Cheap Flights.
Speaking of Florida, now might be the time to plan your summer vacation. If you travel at the beginning of July you could benefit financially, "you can probably save about 20-30 percent," said Oneal.
Adds Orlando: "Prices are depressed, and a lot of these fare sells are going through March, April, even May, but we do not expect that to continue."
According to Russ Dubuc of RD Travel Limited Inc., "Las Vegas is raising room rates.  Hawaii is now welcoming visitors who are vaccinated and arrive with a negative Covid-19 test November 1."
Cruise lines are also bringing more ships out of storage according to Dubuc. "There are still great specials offered. If you want to cruise in 2022, book early because the demand to cruise is very high."
The bottom line according to travel experts is to book everything as early in advance as possible. With a volatile and voracious market, the normal problems regarding holiday travel are going to be intensified in the coming months.
If the prospect is too overwhelming you might want to hire a travel advisor. They are there to help and can oftentimes get you through travel days unscathed. Although it's not free, the peace of mind might be worth the nominal fee.
As the seasons change ushering fall into Bourbon City, visitors can take in the beauty of the changing leaves while enjoying a variety of festivals and events around Louisville's outdoor parks, venues, and historic neighborhoods. As summer fades to fall, October brings the return of some familiar festivals as well as some unique newcomers. If you are looking for a nice, local weekend getaway, Louisville has something to offer everyone, from its Pride festival to spooky season wonders.
Even better, Louisville Tourism is also currently running a sweepstakes offering a free weekend getaway to Louisville! Enter here for this amazing opportunity!
RELATED COVERAGE:
Louisville Tourism's curated list of October events
Jack O' Lantern Spectacular | September 30 - October 31
Returning as a walk-thru event for 2021, visitors can traverse a 1/3-mile path through Iroquois Park featuring over 5,000 professionally carved jack-o-lanterns grouped in themed scenes and set to music. This year's theme is "Changing the Channel: A Timeline of Television History," and will feature favorite shows from the 1950's to what we stream today on our devices and everything in between. Tickets are now on sale.
St. James Court Art Show | October 1-3
Recently capturing two top honors by Sunshine Magazine, the 65th annual art show will be held in historic Old Louisville among the nation's largest collection of preserved Victorian architecture. Over 600 artists from around the U.S. participate in this three-day juried fine art and contemporary craft show, where guests can discover unique works of art in 17 artistic mediums, from clay to wood, and everything in between. Admission is free and the art show is a rain or shine event.
Boo at the Zoo | Thursday-Sundays October 1–30
Experience the Louisville Zoo magically transformed into a living storybook with costumed characters and trick-or-treating for kids 11 and under. A reduced nightly capacity will help with social distancing and parking is free for party guests.
Louisville Taco & Margarita Festival | October 2
New for 2021, this flavorful fiesta is taking over Lynn Family Stadium complete with margaritas, tequila tacos and live music from 11am-6pm. Tickets start at just $10 (plus fees), and kids under 12 are free.
This event offers the opportunity to savor a variety of food and drinks, as the home of Louisville City FC and Racing Louisville FC transforms for this first-of-its-kind event. Concession stands that normally specialize in burgers and hot dogs will roll out speciality tacos, while the bourbon bars across the concourse focus on a variety of margaritas.
Kentuckiana Pride Festival and Parade | October 8-9
Originally scheduled during national Pride month, this two-day event will be held on the Big Four Lawn at Waterfront Park with performances by Todrick Hall, Neon Trees, DJ Spinderella and more. The festival kicks off with the annual Pride Parade on October 8 at 7:00 pm. This year's parade will begin in the NuLu neighborhood at Campbell and Market Streets and end at the Big Four Lawn.
Garvin Gate Blues Festival | October 9
Held in Old Louisville on Oak Street at Garvin Place, this 26-year-tradition features music, arts and an array of food and drink vendors. The free street festival kicks off at 2pm.
This event is the largest free neighborhood street music festival in Louisville, and one of the largest and most recognized free blues music festivals in the U.S. Countless legendary blues musicians have performed at the Garvin Gate Blues Festival throughout the years, they help to keep Louisville's blues heritage alive.
Tailspin Ale Fest | October 30
Usually held in late winter, "Louisville's winter warmer" is becoming 'Louisville's scary good beer fest' in 2021 with over 250 craft beers on tap at Bowman Field, the city's treasured 101-year-old public airfield. Guests are encouraged to dress up in costume to celebrate the Halloween season. Tailspin comes on the tail end of Louisville Craft Beer Week which celebrates the city's local love of the sud, October 19-29.

When planning a trip to Louisville, guests can download a copy of the Louisville Tourism's annual Visitor Guide to help plan a tour around Louisville to see the city's top attractions and bourbon distilleries. Visitors also can get additional city attraction, lodging and dining assistance at gotolouisville.com along with information on the state's current covid-mitigation guidelines.
OUTvoices Cities
Copyright © 2022 OUTvoices